Key learnings:
Biotechs and the City Spring 2018, a quarterly networking event, took place in London on 22 March.
The evening event included a panel discussion on deal-making trends in life sciences, featuring participants from Covington, AstraZeneca, Heptares, and Medius Associates.
The panel discussion centred around option deals, with perspectives shared on the prevalence of these deal types, the motivations for entering into this form of deal structure, and how to ensure a smooth transition should an option not be exercised.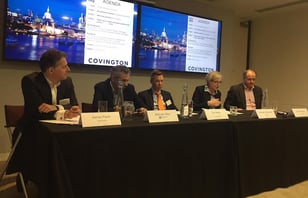 On 22 March 2018, life sciences executives gathered in London for Biotech and Money's quarterly networking event: Biotechs and the City Spring. The event, kindly hosted by international law firm Covington, allowed attendees to network with their peers and gain insights on life science deal-making trends during the evening's expert panel discussion.
The panel focused on option deals, including deals structured as collaborations with an option to purchase the company. The panel comprised: Daniel Pavin, Partner, Corporate Practice at Covington; Malcolm Weir, Chairman and CEO at Heptares; Tim Herpin, VP, Head of Transactions at AstraZeneca; Catharine Staughton, Associate at Medius Associates; James Gubbins, Partner, Corporate Practice at Covington.
During the course of the discussion, the panellists provided their perspectives, experiences, professional and market knowledge about option deal trends, structures, and considerations. Below, we outline some of the key insights that were shared.
Increased activity around deals with an option to acquire
Among the 493 biopharma deals in Medius Associates' Deal Watch database in 2016, 281 were licensing deals or collaborations, of which 59 (21%) included an option element. This trend continued in 2017: of the 448 deals in the database, 272 were licensing or collaboration agreements, with 53 (19%) involving some form of option.
While there are several forms options can take, the option types that demonstrated an upward trend in 2016, according to the Deal Watch data, included options to acquire assets or the company, and the option to move from a non-exclusive to an exclusive licence agreement. Although there was a slowdown in M&A activity in 2017, there was an increase in the number of companies being acquired as a result of an option.
Motivations for entering into an option deal
Whether or not a company elects to enter into an option deal can depend on a variety factors, and may differ depending on its key objectives and requirements at each stage of its development. An option deal structure can provide a certain degree of flexibility, and help to align the strategic objectives of the two parties. From a pharma perspective, it can also be a means of gaining access to other programmes and widening their options or 'hedging their bets'. By having a scheduled date or milestone at which an option can be exercised, there is often a clear point at which both parties can move forward. However, it is important to consider whether the company has enough capital to reach this option point and the impact delays may have on investors' exit strategies.
Why reversion can be a boon
There are a number of valid reasons why an organisation may choose not to exercise its option to acquire an asset or company, for example, the prioritisation of its own pipeline of products or a strategic decision to re-focus its attention on other therapeutic areas. If an asset is reverted, then the opportunity arises for the company to partner with another firm, building on the benefits that the previous licence agreement afforded it, such as capital, resources, and knowhow.
The importance of clear reversion terms
While reversion may open up new opportunities, for a smooth transition, companies should ensure that reversion terms are clearly detailed within the relevant agreement contract. This also involves thinking ahead to the possible scenarios that a company or asset may find themselves in at the point in time when a partner could decide not to exercise its option. This future scenario modelling may pose a challenge for early-stage companies, but with a general increase in open and constructive dialogue around reversion rights, doing so can make sure that all parties are well-positioned should the option not be exercised.
Biotech and Money would like to thank the evening's hosts, panellists, and attendees. The next quarterly networking event will take place on 27 June 2018 under the new name LSX Connect. Find out more.