Key findings:
Switzerland-based Addex Therapeutics is preparing its lead candidate for a registration trial in Parkinson's disease levodopa-induced dyskinesia (PD-LID) following the successful completion of a Phase 2a proof-of-concept study.
The company's lead programme and wider clinical and pre-clinical pipeline have been generated in house through its allosteric modulator drug discovery platform.
Tim Dyer (pictured), Chief Executive Officer, speaks to LSX about advances in the pipeline, the role of pharma, governmental and non-governmental partnerships in accelerating development, and the company's March 2018 CHF40 million capital raise.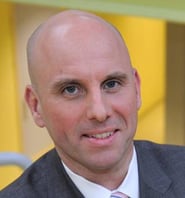 Geneva headquartered Addex Therapeutics, which is listed on the SIX Swiss Stock Exchange, develops orally available, small molecule allosteric modulators for the potential treatment of neurological disorders.
"The difference between a conventional small molecule, agonist or antagonist approach and an allosteric modulator is that allosteric modulators bind to non-competitive sites on their protein target. This differentiated pharmacology has been demonstrated to bring a number of advantages both around safety and efficacy due to selectivity and the more modulatory control at disease mediating receptors," says Tim Dyer, CEO. In addition, an allosteric modulator approach has the potential to address receptor targets that are considered undruggable using conventional approaches.
The company's pipeline is based on its allosteric modulator drug discovery platform, which it has been pioneering for more than 15 years. Its lead candidate is dipraglurant, an mGluR5 negative allosteric modulator (NAM). Addex has completed a Phase 2a proof-of-concept study for dipraglurant in Parkinson's disease levodopa-induced dyskinesia (PD-LID), with funding support from the Michael J. Fox Foundation for Parkinson's Research. The company is now in the process of preparing the programme for a Phase 3 registration study, and expects to begin dosing the first patient in 2H19.
Alongside the PD-LID trials, Addex is collaborating with the Dystonia Medical Research Foundation to investigate dipraglurant's potential in the treatment of dystonia. It aims to advance this programme into a Phase 2 proof-of-concept study in the coming year.
Leveraging partnerships with pharma and beyond
Addex has also partnered with industry to further progress its pipeline, including global licensing and collaboration agreements with Janssen Pharmaceuticals and Indivior. The Janssen agreement centres round the development of ADX71149, an mGluR2 positive allosteric modulator (PAM), for epilepsy and other CNS disorders. Clinical development of ADX71149 for epilepsy is currently being planned by Addex partner, Janssen. Addex is eligible to receive development and regulatory milestone payments of up to €112 million, as well as low double-digit royalties on the sale of mGluR2 PAM treatments developed through the collaboration.
The partnership with Indivior was announced in January 2018, and recently gained industry recognition through its inclusion on the final shortlist for EU Deal of the Year at the Lifestars Awards 2018. The agreement focuses on accelerating the development of ADX71441, a PAM that potentiates GABA responses at the gamma-aminobutyric acid subtype B (GABAB) receptor, for the treatment of addiction. Addex received a $5 million upfront payment and will be eligible for $330 million in potential milestones and double-digit tiered royalties. The company will also receive a further $4 million in research funding over a two-year period for the discovery of additional GABAB PAM compounds. It retains the right to advance additional compounds outside of Indivior's strategic focus areas, including Charcot-Marie-Tooth type 1a neuropathy. "What the collaboration does is allow us to exploit GABAB PAMs extremely broadly," says Dyer. "Indivior will have molecules that they can take forward into the indications that they have interest in, and we will have molecules that we can take forward into our focus areas."
In October 2017, the US National Institute on Drug Abuse (NIDA), part of the National Institutes of Health (NIH), awarded Addex a $5.3 million grant to fund a Phase 1 and Phase 1b cocaine interaction study for ADX71441. The funding was granted under the cooperative agreement, Grand Opportunity in Medications Development for Substance-Use Disorders, which also includes scientific support from the NIH. It builds on previous collaborative work between Addex and NIDA to explore allosteric modulators in pre-clinical models of addiction and drug abuse. The company expects Indivior to commence a Phase 1 trial of the GABAB PAM in 2019.
Partnering with governmental and non-governmental organisations is an integral component in the company's strategy to progress its pipeline and exploit the potential of allosteric modulators in the treatment of neurological disorders. In addition to the aforementioned collaborations with NIDA, the Michael J. Fox Foundation for Parkinson's Research and the Dystonia Medical Research Foundation, Addex has worked with the Charcot-Marie-Tooth Association, the US National Institute on Alcohol Abuse and Alcoholism, and Innosuisse – the Swiss Innovation Agency. In September 2018, it also joined the Human Drug and Brain Research initiative (THuNDR2), funded by the UK's Wellcome Trust. This scheme aims to advance understanding of the role of dopamine in brain function. THuNDR2 will have access to Addex's ADX10061 compound, which will also be made available to researchers via its inclusion in the European College of Neuropsychopharmacology (ECNP) Medicines Chest, while Addex will have access to data generated through associated research studies.
As well as, in some cases, non-dilutive funding, such collaborations provide access to scientific expertise and high-quality data. "It was all of the data generated through these non-governmental and governmental organisation collaborations that helped to convince not only Indivior with the [GABAB PAM] programme, but also investors that dipraglurant was worth investing in," Dyer notes.
Attracting global investment
In March 2018, Addex completed a CHF40 million capital increase, which included a number of US specialist healthcare investors. The raise will contribute to the PD-LID registration studies and the advance of its wider portfolio. "We're rapidly moving [pre-clinical] programmes through to the clinical candidate stage," says Dyer, adding that the company hopes to forge partnerships for its pre-clinical pipeline over the years ahead as it exposes it to pharma.
On top of its lead candidate, technology platform, and the data surrounding these, the company's development is spurred by the experience of its team. The executive management team includes Dyer, Robert Lütjens, Co-Head of Discovery, and Jean-Philippe Rocher, Co-Head of Discovery, who have been with the company since it was founded in 2002. The management team expanded in November 2016 with the appointment of Roger Mills as Chief Medical Officer. Mills joined from Acadia Pharmaceuticals where he held the position of Executive Vice President, Development and Chief Medical Officer. Whilst at Acadia, Mills oversaw the development of pimavanserin (Nuplazid™), which was approved by the FDA for the treatment of Parkinson's disease psychosis.
With the support of its partners and the CHF40 million capital raise, the next 12 months will see Addex further progress its pre-clinical and clinical programmes, as it builds towards its overarching aim of growing a sustainable pharmaceutical company around allosteric modulation. Going forward, it may also tap into the US public market in order to leverage the strategic benefits that this can offer. "In 2019, we will continue to evaluate the advantage or disadvantage of a dual listing on the US market," says Dyer. The primary objective of such a move would be to increase the ease with which US investors can invest in the company, rather than to raise capital.
Feature image © nishi55 – stock.adobe.com