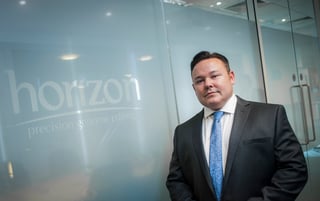 On Tuesday 6 February 2018, leading life sciences companies will share their business model, development, growth, and deal experiences with delegates at the 4th annual Biotech and Money/Medtech and Money World Congress. During these 'Anatomy of…' panel discussions, panellists will reveal their key learnings, provide their perspectives on the challenges and opportunities they encountered, and outline how these developments are driving their businesses forward.
Ahead of the event, Biotech and Money has collected some initial insights from a selection of the panellists. This includes Darrin Disley (pictured), CEO at Horizon Discovery Group, who will feature in the 'Anatomy of a…hybrid business model' panel.
Q&A with Darrin Disley, CEO at Horizon Discovery Group
How has a hybrid business model contributed to the company's growth?
Horizon built its business from IP to IPO through a hybrid products and services business model focused on translational genomics. Since the IPO we have grown our products business both organically in existing research markets and new applied markets in biopharmaceutical production and clinical diagnostics, and inorganically through the acquisition of the global gene modulation market leader Dharmacon from General Electric. Whilst products will make up c80% of Horizon's revenue from 2018, we also continue to add a wide range of cutting-edge service platforms, such as RNAi, CRISPRi and CRISPRa genetic screening, cell therapy development, and drug repurposing to our historical capabilities. These services underpin our Research Biotech programmes such as Avvinity, our JV with Centauri Therapeutics in the area of immuno-oncology, and future planned JVs and spin-outs based upon our synthetic lethality and cell therapy platforms.
What is the greatest benefit of being a fully integrated life science company?
As mentioned, our services underpin our Research Biotech strategy, but beyond this Horizon benefits from a positive feedback loop between our product and service offerings. Our RNAi, cDNA/ORF, CRISPR reagents, human disease models, biomanufacturing cell lines and diagnostic reference standards, provide the foundation upon which our contract research services are built, but by also offering support to those operating in the cutting edge of research, Horizon is able to gain insights into the needs of academic, biotech, diagnostic and pharmaceutical companies and where basic and translational research is going. This informs our product development, enabling us to generate the next generation of products, which are then made available as services, and so the cycle continues.
Are there any challenges to operating this business model?
There's a temptation under an integrated model to try and do too much. Just because you can perform certain services internally doesn't necessarily mean that you should and it is important to accept what your organisation is best at and focus on where you provide the most value, both as a service to external customers and to support your own programmes. Additionally, any services you offer should be able to operate as a proper revenue generating business in its own right, and not exist solely to support development programmes as it is entirely possible other organisations can do things better or less expensively.
What do you hope those attending the panel session will take away with them? Or what insights do you hope to gain from your peers on the panel?
My hope is that attendees will come away with a broader definition of what an integrated model can mean in terms of value creation (IP, platform, application translating to revenue, profit, net asset value), and a clear focus on operating to their strengths. Personally, I'm most interested in learning from the experiences of my fellow panellists, hearing about the lessons learned as Horizon continues to embark on more early stage programmes.
Learn more:
Confirmed panellists for this 'Anatomy of…' discussion also include Pawel Przewiezlikowski, CEO at Selvita. To read more Q&As with CEOs taking part in 'Anatomy of…' panel discussions, including biotech and medtech IPOs, and private finance raises, download the Anatomy of…life science business growth and development white paper:
The 4th annual Biotech and Money/Medtech and Money World Congress will take place on 5-6 February 2018 at etc.venues, 200 Aldersgate, St Paul's, London. To view the full roster of panellists and 'Anatomy of…' discussion topics, download the brochure.