Key learnings:
UK-based

Avacta Group has developed Affimer® technology, an alternative to antibodies, for use in research, diagnostics, and therapeutics.

The company is advancing its immuno-oncology focused lead candidate towards the clinic, as well as partnering on gene delivery, drug conjugates, and CAR-T cell therapy programmes.
Alastair Smith (pictured), Chief Executive Officer, talks to LSX (formerly known as Biotech and Money) about the market potential for the Affimer platform, licensing and partnering opportunities across both sides of the business, and the company's strategic objectives.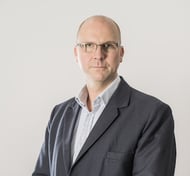 In May 2018, AIM-listed Avacta Group announced promising results from a proof-of-concept study conducted as part of a research collaboration with FIT Biotech Oy. The study examined the effectiveness of combining Avacta's Affimer® technology, which has been engineered as an alternative to antibodies, and FIT Biotech's gtGTU® gene delivery technology.
In the study, the DNA of two Affimer proteins was delivered into the leg muscle tissue of mice, a method that triggers cells to produce the protein themselves. Clinically-relevant levels of the Affimer drug were found in the bloodstream of the mice for more than a month following a single dose of the Affimer DNA.
Alastair Smith, CEO at Avacta, believes Affimers have the potential to become the platform of choice for gene delivery as the data around their use builds. "Because [the Affimer] is small and very simple in structure, it means the body can easily make it. So, in principle, you should get much higher levels of the Affimer produced in the body compared with, say, a monoclonal antibody which is much bigger and more complex," he explains.
Avacta has also established gene delivery-focused research partnerships with US-based Moderna and Nasdaq-listed OncoSec. Outside of gene delivery, the company has partnered with Glythera to develop Affimer drug conjugates and it is collaborating with Memorial Sloan Kettering Cancer Center on a CAR-T proof-of-concept study.
Progressing immuno-oncology programmes towards the clinic
In addition to partner programmes, Avacta is developing an in-house pipeline of Affimer therapeutics with a focus on immuno-oncology. The company's lead candidate is a PD-L1/LAG3 combination. The decision to proceed with this combination rather than its previously ear-marked lead asset, a PD-L1 inhibitor, follows the significant progression of its second immuno-oncology programme, LAG3.
While the initial selection of the PD-L1 inhibitor as lead candidate reflected the desire to reduce risk and time to the clinic in order to gather first-in-man data to help open up licensing deal opportunities, Avacta found this data to be less critical than expected. "What we wanted to do, given that we had a new technology, was get into the clinic with minimal risk so that we could get human data and really cross that value inflection point," explains Smith. "What we have learned through our business development activities is there is a clear appetite for pre-clinical licensing deals."
Leapfrogging the PD-L1 inhibitor to take forward the PD-L1/LAG3 bispecific will not only open up more interesting commercial opportunities but development will also proceed along similar timescales to the PD-L1 inhibitor, says Smith. The PD-L1/LAG3 lead programme is on course to reach the clinic by 2020/2021.
Building on commercial opportunities in research and diagnostics
Affimer proteins can capture and bind to targets as an antibody does, while presenting some technical and commercial benefits, says Smith. This includes their high degree of specificity, ease and speed of manufacture, their small size and stability, and the ability to engineer them to bind to a variety of targets.
Avacta has sole intellectual property (IP) rights for the Affimer technology. "What that means is the IP position is very simple and unencumbered," Smith points out. "Licensing deals are very straightforward, with no additional IP required for our partners."
Smith views Affimers as complementary to antibodies, with substantial market potential. Not only is Avacta developing a pipeline of partner and in-house drug candidates, it is also building a reagents business through a licensing model. Affimer reagents have a range of applications in research and diagnostics, which will provide medium-term value for Avacta and its shareholders as the company also creates longer-term value through its therapeutics pipeline.
Avacta's Wetherby site in Yorkshire focuses on research and diagnostic reagents and staff at its Cambridge, UK, site are dedicated to therapeutic activities. The company's business development team works across both areas to increase awareness of the technology's array of applications. This team was recently expanded to cover both the US East and West Coast in light of the opportunities available for the Affimer platform in the States.
Smith also identifies Asia, particularly China, Singapore, and South Korea, as a target market for Avacta's technology. "There's a lot of opportunity in those markets where there is a real hunger for international, competitive growth," he notes.
Developing both sides of the business
Over the next 12 months, the company will look to establish further licensing deals for its reagents arm as well as pre-clinical licensing deals and partnering agreements with pharma and large biotech on the therapeutics side of the business. At the same time, it will continue to build on the in-vivo data for its PD-L1/LAG3 combination and other programmes in its pipeline.
Smith says: "In the longer-term, on the three-year timescale and onwards, our vision is to be a clinical-stage biotech with an exciting and valuable pipeline in immuno-oncology around bispecifics, trispecifics, and around some novel drug conjugates that we are just at the beginning of developing." This objective will be supported by the considerable expertise of Dr Eliot Forster, who was appointed Non-Executive Director in June 2018. Forster has more than 25 years' experience in the industry, most recently serving as CEO at Immunocore during which time the company secured a $320 million finance raise. "Eliot will be an integral part of helping Avacta make that transition to a clinical-stage biotech from an R&D-driven tech company," Smith adds.
Looking to 2021 and beyond, the aim is a profitable reagents business with recurring revenues and long-term royalties generated through licensing into third-party product development. "Then one can think about whether [reagents and therapeutics] are two separate entities and whether shareholders could benefit from a split," says Smith.
Feature image © kentoh – stock.adobe.com