On Thursday 30 August, an expert panel will take to the stage at the inaugural LSX Nordic Congress to examine how government and industry leaders are working to create an internationally-competitive, world-class life sciences hub in the Nordics. Panellists include: Jenni Nordborg, National Coordinator, Life Sciences at the Government Offices of Sweden; Rasmus Beedholm-Ebsen, Senior Advisor – Life Sciences, Invest in Denmark at the Ministry of Foreign Affairs of Denmark; Viktor Drvota, Chief Executive Officer at Karolinska Development; Farzad Abdi-Dezfuli, Partner, Investment Advisor at Sarsia Seed.
During the course of the discussion, the panellists will explore issues such as the role of tax credits and business incentives in developing a more robust healthcare ecosystem, whether increased incentives for patients could contribute to research and development in the region, and the efforts of governments and agencies in improving policy conditions for the sector.
Ahead of the event, we put five questions to the panellists to gain a preliminary insight into their perspectives on the Nordic life sciences ecosystem. Read on to see the thoughts of Jenni Nordborg, Rasmus Beedholm-Ebsen, and Farzad Abdi-Dezfuli (pictured left to right):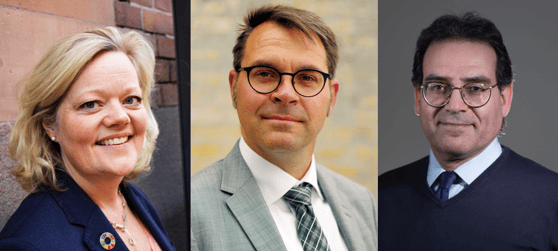 What makes the Nordic region stand out as a hub for life sciences?
Jenni Nordborg:
The Nordic region stands out as a hub for life science in several ways, with a strong business sector, high quality healthcare and world-class science. Other examples are a high degree of education, well-developed infrastructure, high innovation rate, and long-term established health data registries. With a combined population of 27 million citizens, and a strong collaboration and co-creation culture, the Nordic life sciences sector has the potential to be an attractive test market. The region also holds some of the world's most innovative and promising projects in its pipeline.
Rasmus Beedholm-Ebsen:
In my opinion, the life science sector in the Nordics has a long heritage and the Nordic healthcare system is especially well established with regard to primary and preventive healthcare. These couple into sophisticated occupational health standards which are considered to be models by the outside world. Besides, there is a general world-class research sector, data collection, and effective business environment combined with a tradition for public-private partnerships in the Nordic countries.
Farzad Abdi-Dezfuli:
The Nordic countries are high up on the rank lists of publications per capita, and health research is an important driver.
Sweden's strong research, Norway's financing strengths, and Denmark's favourable regulations when combined, allow for a potent hub.
Are there any obstacles to the future growth of the life sciences sector in the Nordics? If so, how can these obstacles be overcome?
Jenni Nordborg:
One obstacle is obviously that the Nordics consists of five different countries. This becomes a challenge when it comes to, for instance, health data integration. Collaboration towards common goals is obviously essential to overcome this type of obstacle.
Rasmus Beedholm-Ebsen:
As it is now, there is only little interaction between the healthcare sectors in the Nordics. For example, attracting and performing clinical trials, it would benefit all countries [to have] an increased Nordic coordination of clinical trials.
Farzad Abdi-Dezfuli:
Inadequate economic conditions: lack of private venture capital; lack of policy measures to stimulate private investments in innovation; lack of support systems to enhance public-private collaboration.
Cultural barriers and lack of trust between the traditional public healthcare sector and private sector business.
Lack of knowledge-sharing across the countries and a high degree of national-oriented mind-set.
What are your hopes for the life sciences ecosystem in this region over the next five years?
Jenni Nordborg:
What we see today is that all the Nordic countries are adopting more strategic approaches to boost their life science sectors. These initiatives include both general conditions for innovation and growth, as well as strategic initiatives to position the countries as global life science leaders. In five years, I hope that these initiatives have started to pay off and that the Nordics is one of the leading life science hubs in the world.
Rasmus Beedholm-Ebsen:
I do hope for a better collaboration between the Nordic countries, and a little less competition as well. It has been shown that it can be done with the close Danish/Swedish collaboration on Medicon Valley. Also, the new European Spallation Source (ESS) is a great example of how Denmark and Sweden are working together with the rest of Europe, creating a research infrastructure consortium.
Farzad Abdi-Dezfuli:
An increase in cross-border scientific collaborations.
Better access to private and public capital through greater establishment of risk capital instruments/institutions and/or easing of access to alternative markets (such as First North).
Greater government financial support and relief schemes for start-up companies.
Read the full Q&A in the white paper Unlocking potential in the Nordic life sciences sector, which also includes interviews with VC investors based in the region:

Feature image © sdecoret – stock.adobe.com