Key findings:
Cancer Research UK's Commercial Partnerships team brings together academic and industry expertise to help develop promising cancer treatments for the benefit of patients.
The organisation engages with industry through a range of initiatives, including licensing and collaboration agreements, company creation, alliances, and clinical development schemes.
Tony Hickson (pictured below, left), Chief Business Officer, and Phil Masterson (pictured below, right), Associate Director, Commercial Partnerships, talk to LSX about the organisation's role in funding, translating, and commercialising cancer research, and discuss the importance of collaborative approaches and partnerships in achieving positive outcomes for patients.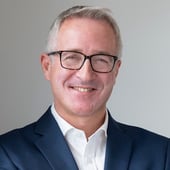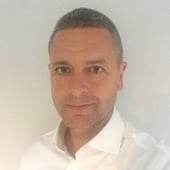 In 2014, Cancer Research UK (CRUK) set out its goal of increasing the proportion of people diagnosed with cancer who survive with their disease for at least 10 years from 50% to 75% within a 20-year timeframe. A key component in the organisation's strategy to achieve this ambition is its work to support the translation of cancer research into commercial propositions that will benefit patients.
CRUK invests more than £400 million a year into research, including research infrastructure, funding schemes, and industry initiatives, to name but a few. The organisation's Commercial Partnerships team, part of the Research and Innovation division, is dedicated to the development and commercialisation of innovative research. The team accelerates the translation of new ideas into treatments by bringing together the expertise, capabilities, and resources of CRUK and its academic network with that of industry partners.
"Even with a £400 million budget, we can't develop drugs all the way to market [alone]," explains Tony Hickson, Chief Business Officer at CRUK. "And the pharmaceutical industry increasingly can't do it alone; it needs to work with universities, academia, and good scientists to access the best new biology. We really see this as a partnership going forward, with the overall ambition of driving patient impact."
An evolving pipeline of licensing opportunities
There are a number of routes through which the organisation engages with industry. One of the most notable is licensing and collaboration. CRUK holds exclusive rights to any intellectual property arising from more than £400 million-worth of cancer research annually. There are over 200 projects in various stages of development that are potentially available for licensing and collaboration opportunities.
These two opportunities often go hand in hand, says Phil Masterson, Associate Director, Commercial Partnerships. "We will often work with a company at an early stage and then there is an option to trigger the licence to that intellectual property slightly later down the line at an agreed milestone in the programme," he adds.
Opportunities span small molecules, biological therapeutics, biomarkers, medical devices, platform technology and research tools. These emerge from the organisation's drug discovery units. For example, in September 2016, Sierra Oncology (formerly known as ProNAi Therapeutics) licensed the exclusive worldwide rights to develop and commercialise SRA737 (previously PNT737), a small molecule inhibitor of Checkpoint kinase 1 (Chk1). This was first discovered and developed by the CRUK Cancer Therapeutics Unit at the Institute of Cancer Research (ICR) in partnership with Sareum Holdings. The CRT Pioneer Fund, managed by Sixth Element Capital, licensed the programme in September 2013. Two Phase 1 clinical trials of PNT737 were subsequently sponsored and managed by the CRUK Centre for Drug Development, led by the ICR and The Royal Marsden NHS Foundation Trust, before being transferred to Sierra Oncology in January 2017.
CRUK continues to add new research projects to its pipeline, opening up new possibilities for partners and patients. "There is a much expanded opportunity-sourcing team within Commercial Partnerships at the moment with diverse expertise out there mining the network for new opportunities," states Masterson. "The pipeline is always changing and evolving."
To date, the organisation has more than 30 partnered agents that are undergoing pre-clinical and clinical development, as well as two products in Phase 3 trials. A further six drugs are already on the market: Abiraterone (Zytiga®), Olaparib (Lynparza™), Rucaparib (Rubraca™), Temozolomide (Temodal®), Vismodegib (Erivedge™) and Patisiran (Onpattro™). Over £400 million of revenue has been generated through the commercialisation of these products of which, after sharing with partner institutions, around £200 million has been reinvested in cancer research by the charity, notes Hickson.
Stimulating start-ups
Where the advance of a potential treatment would be best served by being placed in a start-up environment, CRUK's Commercial Partnerships team has the capacity to facilitate company creation. Hickson says: "We work with university and institute partners to get those companies set up, we put seed funding into them, we can help attract investment, and we will support them in gaining that investment. We will work with various partners in order to [achieve] that."
CRUK has played a role in establishing and developing over 35 start-ups. Among these is Artios Pharma, which launched in September 2016 with a £25 million Series A investment from SV Life Sciences, M Ventures, IP Group, Arix Bioscience, CRT Pioneer Fund, and AbbVie Ventures. Artios Pharma is developing therapies targeting DNA Damage Response (DDR) in cancer. It licensed two programmes from CRUK, including its lead asset Pol-theta (PolƟ), and entered into a research collaboration to work with the CRUK Therapeutic Discovery Laboratories to progress the lead programmes, and other DDR drug targets selected from CRUK's portfolio or sourced globally. In August 2018, Artios Pharma went on to raise a £65 million Series B round with the participation of Andera Partners, LSP, Pfizer Ventures, Novartis Venture Fund, Arix Bioscience, SV Health Investors, M Ventures, IP Group, and Abbvie Ventures.
Bridging oncology expertise in academia and industry
The Commercial Partnerships team also supports translation around themed areas of biology by forging multi-project alliances. "It's really about delivering pipelines, not just a single project," stresses Masterson.
Its sixth collaboration of this kind was announced in late 2017 with Celgene Corporation, focusing on mRNA translation. For this five-year alliance, CRT will lead on drug discovery and advance candidates through Phase 1 clinical trials. Celgene can exercise an option for the US rights to projects developed through the collaboration, as well as global rights at the end of the Phase 1 trials, subject to additional option fees.
Such alliances provide a bridge between the deep oncology know-how held by academics and commercial partners. "We bring together the best minds in academia and industry. We are very comfortable playing a role in the middle of those two, and we are able to deliver operational excellence in the way we build and manage those alliances," says Masterson. "It's really the CRUK science that underpins that model. We bring the academics and the science, and industry brings its expertise in future development and muscle power in terms of funding and additional resources."
This collaborative approach is especially pertinent for the exploration of novel drug combinations and multi-partner combination studies, points out Masterson. Indeed, the CRUK-supported Combinations Alliance works with both industry and researchers to translate academic research into early-stage combination clinical trials. "Those multi-partner combination studies are going to be increasingly important, particularly with the interest in I-O (immuno-oncology) at the moment," Masterson adds.
Aligning with changing market dynamics
CRUK's alliance model, and the work of its Commercial Partnerships team more broadly, aligns with the growing emphasis on externally-sourced innovation in the pharma industry. "There has been a trend in the last decade towards more open innovation – more collaboration between the pharma industry, biotech industry and academia, more porous boundaries, more [pharma companies] externalising innovation and sourcing ideas from outside of their own R&D unit," says Hickson. "I think we are going to see more growth in this area, and Cancer Research UK has a powerful and important role to play in the oncology space as both a funder of research and convener of interested parties around assets, ideas, and alliances."
This unique positioning also allows CRUK to tackle particularly challenging areas in oncology and to progress programmes that may be viewed as less commercially attractive. Through its Clinical Development Partnerships scheme, CRUK takes promising assets into clinical development when companies are unable to do so themselves. "[This scheme] is about being able to identify deprioritised agents that the company doesn't have the bandwidth to progress, but which have potential patient benefit," explains Masterson. "In those situations, we are able to bring [the agents] in, our Phase 1 Clinical Trial Unit runs the trial, and the company then has the option to take those trial results forward themselves. If they elect not to take up the option, we pick up the rights to that asset and are able to drive forward the development ourselves with a revenue share back to the company."
Supporting the charity's strategy
Partnered initiatives that have the potential to improve the outlook for cancer patients are central to the organisation achieving its mission. To support this, the Commercial Partnerships team is flexible in the way it engages with industry and in terms of the commercialisation models it employs. It also moves in lock-step with the charity's strategy by increasing its focus on research that addresses hard-to-treat cancers, particularly brain tumours, lung, pancreatic, and oesophageal cancers, as well as key areas such as prevention and early detection. Of the £413 million-worth of research funded by the organisation in the 2017-2018 financial year, £57 million went towards early detection and £35 million was invested in research into possible cancer causes and prevention.
"We are positioned such that we can act as a real cornerstone and catalyst around which to build the expertise required in [early detection]," says Masterson. "It's not an area that industry has historically engaged with very well, the expertise is fragmented. We can play a role in bringing together the right players." CRUK's position could become even more pivotal in this area as the convergence between the tech, big data, pharma, and diagnostics industries intensifies, he adds. "Given that we fund some very large clinical studies and there's a lot of data and information around those studies, I think we'll see an important role [for CRUK in the future] and some exciting things ahead."
Encouraging entrepreneurialism and internationalisation
Going forward, the organisation plans to expand its international footprint in cancer research and move towards a more global outlook. This is reflected in its Grand Challenge scheme, which provides up to £20 million of funding for international, multidisciplinary teams harnessing novel methods to take on the biggest challenges in cancer research. The 2017-2018 Grand Challenges span: tissue specificity; tumour vaccinology; treatment regimens; dormancy; lethal vs non-lethal; artificial intelligence; microbiota; cancer causes. "This is a good example of where we are addressing the big unmet need questions in oncology on an international playing field, and bringing the right people together to get those questions answered," says Masterson.
The organisation is also ramping up efforts to assist researchers in better understanding the routes and funding options available for moving their ideas from the lab towards the market. "We will be doing a lot more around enterprise education and stimulating entrepreneurship, particularly at CRUK institutes and academic partners, and [we will be] working closely with our academic university partners to do that," says Hickson. To launch these activities, in November 2018 CRUK hosted its first Innovation Summit. The event featured a range of panel and speaker sessions, workshops, networking and Q&A opportunities centred on fostering entrepreneurialism in oncology.
These new initiatives, alongside the existing frameworks through which the Commercial Partnerships team engages with industry, are both underpinned by and designed to realise the charity's aim of accelerating progress in cancer research. As Hickson notes: "We want to position ourselves as a partner of choice for oncology translation and commercialisation, and help Cancer Research UK and patients achieve the overall objective of three out of four patients enjoying 10-year survival by 2034."
Feature image © DrHitch – stock.adobe.com