Key findings:
In June 2018, surgical robotics company CMR Surgical raised $100m from new and existing investors in its Series B round.
The funding round will support the commercialisation of the UK company's next-generation robotic system, Versius®.
Martin Frost (pictured), Chief Executive Officer, talks to LSX (Formerly Biotech and Money) about the next stages in CMR Surgical's growth trajectory, and discusses the factors that have accelerated that trajectory thus far.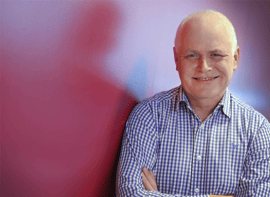 Less than a year after closing its substantial $46 million Series A round, Cambridge-based surgical robotics company CMR Surgical announced that it had raised $100 million through its Series B funding round. This a not only a significant milestone for the company, but also for the medical devices industry in Europe where it is believed to be the largest Series B private finance raise of its kind to date.
The Series B round included new investor Zhejiang Silk Road Fund and existing investors Cambridge Innovation Capital, Escala Capital Investments, LGT, and Watrium. "It is really encouraging that so many of the existing investors followed their money," says Martin Frost, Chief Executive Officer at CMR Surgical. "That is very encouraging for the management team because it tells us that they have confidence in us and what we're doing and, in particular, in the product and what it can do for patients. In the end, it's all about putting a great tool in the hands of wonderful surgeons all around the world to make sure that patients get the right surgery."
The $100 million investment will enable the company to ready itself for the commercialisation of Versius®, its next-generation surgical robot, and lay the groundwork for global expansion. "This is about putting in place the infrastructure to commercialise this product," explains Frost. "That means [developing] the commercial team, the clinical team and the training team, and not just doing that in this country."
Drawing on the talent and heritage of Cambridge's life sciences sector
CMR Surgical has already grown at a formidable rate; it was established just four and a half years ago, in January 2014. "Typically, medical device development from idea or design through to commercialisation is normally a 10-year journey and we will have done that in around five," Frost notes. "You can only do that by putting in place the agile development team we have in Cambridge and recruiting the excellent people we have here."
Frost also credits the calibre of the company's employees and the thriving life sciences eco-system in Cambridge as key factors in its Series B success, both in terms of the size of the round and the high-quality, international investor syndicate. "It's very difficult to build a company to do what we're doing, and Cambridge is one of the few places in the world where you can try to do this," he says. "It's really the heritage of Cambridge and the fantastic team we've been able to assemble from here – all of those ingredients have helped us raise that money."
The support that the company has received from its investor base has also been a critical element in the company's development journey. "Unusually, the shareholders have given the management team here a lot of freedom to deliver something very difficult and over the long term. Not many management teams have that luxury, and we're very grateful for it," adds Frost.
Coming together to achieve a unified vision
One of the next steps on the company's growth trajectory is the development of its new headquarters on the Evolution Business Park in Cambridge. This will accommodate all of CMR Surgical's members of staff, bringing them together from the three different sites upon which they are currently based. The new headquarters will also house laboratories, a demonstration operating room, as well as test and final assembly facilities.
"We now employ more than 230 people, excluding contractors," Frost says. "They are scattered and split across those [three] sites. The task is to build one company with a very unified vision, and one very integrated product. You have to be under one roof to do that."
As it continues to grow, the company hopes to become one of the largest employers in the Cambridge area. It is already working to foster talent, taking on 25 interns this summer. This included a range of young people, such as individuals taking a gap year after finishing school as well as university students.
Building a sustainable medical devices business in the UK
The company aims to see Versius in use at hospitals in Europe within the next 12 months. It is also looking to increase the utilisation rate, and thus cost efficiency, of surgical robots in the operating theatre, a goal that could be facilitated by the design attributes of the Versius system. The device, which was inspired by the human arm, has been developed with versatility, portability and dexterity in mind. It is intended for use in a range of surgeries, such as gynaecology, urology and colorectal surgery, in line with the company's mission to make keyhole surgery accessible to as many people as possible around the world. CMR Surgical's long-term vision is to achieve this mission as a company.
"We never set out to build an interesting technology and then license it or sell it, we set out to build a substantial medical devices company in the UK," explains Frost. "Having the opportunity to build a significant and sustainable medical devices company in Cambridge is a great privilege; I'm really looking forward to doing that over the next five to 10 years."
Editor's note: CMR Surgical officially unveiled its next-generation robot on 4 September 2018. More details and images here.
Feature image via CMR Surgical: Versius Arms