Key learnings:
Law firm CMS advises a wide spectrum of life sciences clients across multiple jurisdictions.
The firm's life sciences and healthcare practice draws on the longstanding expertise of specialist lawyers, building on the synergies delivered through the 2017 merger of CMS, Nabarro, and Olswang.
Niall McAlister (pictured), Partner in the Corporate and M&A Team at CMS London, tells Biotech and Money about the developments he has witnessed in the sector over the last two decades, and what he sees as the greatest challenges for the industry moving forward.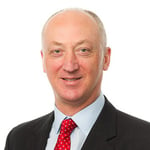 Life sciences and healthcare represents one of six expert sector focus areas for law firm CMS, which has more than 300 lawyers specialising in this space. The strength of the firm's capabilities in this sector draws on the synergies that resulted from the May 2017 merger of three international law firms: CMS, Nabarro, and Olswang. The merger brought together complementary expertise across life sciences and healthcare, from competition and regulation services through to intellectual property (IP). As convergence between the life sciences and healthcare ecosystems intensifies, combining depth of experience in both areas also adds a further dimension to the firm's full-service offering, explains Niall McAlister, Partner in the Corporate and M&A Team at CMS London.
Life sciences sector scope
In the life sciences and healthcare industries, the services provided by CMS span financing, regulatory, transactional, and structuring issues. This is supported by the firm's proficiency in the legal aspects of day-to-day business operations, such as supply chain and commercial agreements, employment law, risk and compliance advice.
CMS acts on behalf of the full range of stakeholders in the industry, including large pharma, biotechs, diagnostic and medical device companies, digital health companies, contract research organisations (CROs), medical research institutes, and investors. This breadth has provided it with comprehensive knowledge of the sector and the complexities that lie within it. "It means we understand how the industry works inside and out, and that's very valuable for clients," says McAlister. "Because we know the industry so well, we are able to provide valuable input and real insight on a strategic level."
This insight is supplemented by the firm's in-house patent attorney practice, which works with clients to position IP within the context of wider, forward-thinking strategies. "It's very proactive in terms of creating value rather than just responding to questions with technical answers," notes McAlister.
Scaling start-ups to cross-border transactions
CMS represents clients through a broad array of development stages, from working with university spin-outs and advising investors participating in early-stage funding rounds, to acting on large international deals for leading pharmaceutical companies.
For those companies at the beginning of their journey, the firm runs the equIP programme. This scheme helps start-ups to scale through the provision of legal services at reduced rates, as well as offering learning and networking opportunities. "It gives access to the kind of specialists you need at the start of a company's life, but which would otherwise be too expensive," explains McAlister. While tech start-ups were the initial focus of the programme, it now includes a handful of life sciences and digital health companies and continues to expand as momentum grows.
At the other end of the spectrum, CMS's work on substantial cross-border transactions is underpinned by its presence across multiple jurisdictions. The firm has 74 offices in 42 countries throughout Europe, Africa, Asia-Pacific, the Middle East, and Latin America.
The firm is also a member of the Life Sciences Asia-Pacific Network (LAN). In this region, McAlister points to China for its notable growth in life sciences activity, including both investment and licensing deals.
Preparing for digital disruption
E-health is a key focus area for CMS's life sciences and healthcare practice, particularly as data analytics and technology such as artificial intelligence (AI) become an increasingly significant part of many healthcare companies' business models. "The amount of data being processed, even compared to a few years ago, is phenomenal. That will keep growing, and as it does, the quality of the AI products will get much better. Then they will start to have a real impact," observes McAlister. "The question, I suppose, is whether the products will fit the existing players' and industry use or whether it will give rise to real disruption, such as tech companies coming in and doing something completely different."
The potential applications of such technologies within the healthcare sector are wide. This includes patient engagement and monitoring to assess the efficacy of drugs, which, as McAlister notes, could lead to cost reductions and other efficiencies for pharma companies and payers.
There are also challenges to navigate along the path through development and commercialisation of e-health and digital products, both regulatory and otherwise. Data protection remains a pivotal issue not only for digital health companies and other stakeholders in the life sciences sector, but across all industries. This has been compounded by recent data scandals that have received substantial media coverage, as well as the introduction of the General Data Protection Regulation (GDPR) on 25 May 2018. "It is the issue of the day," stresses McAlister.
Meeting growing challenges
GDPR is not the only change that life sciences companies have to adapt to, of course. One cannot forget Brexit or the larger backdrop of pressures facing the sector, such as managing healthcare costs. Antimicrobial resistance (AMR) is also a growing concern, highlighted by the recent 'super-gonorrhoea' case in which a UK man demonstrated resistance to first-line antibiotic treatment. Fortunately, the individual was later cured. However, McAlister expects this to be a major issue for the industry over the coming years. Given the implications of AMR and the pressing need for solutions, new approaches to spur developments in this space may be required. "I suspect that there needs to be something really innovative in how we go about incentivising companies to focus on AMR," says McAlister. "That, from a legal point of view, is quite interesting. [It may be] we all have to think very hard about whether our existing well-established ownership model remains fit for all purposes."
Understanding pressure points
McAlister has been working in the industry for over 20 years, and during that time he has witnessed a shift in dynamics within the sector and the obstacles that companies face. From the optimism and buoyancy of the 1990s biotech scene to a scarcity of funding in the 2000s, the way in which stakeholders have approached company building and deal-making continues to evolve. Whereas biotechs may previously have aspired to grow into large, vertically-integrated businesses, says McAlister, they are now more likely to retain their focus on earlier-stage product development before pharma comes into play to drive later-stage activities. This has had a knock-on effect on deal terms and structures, adds McAlister, such as a greater preference for milestone payments than for significant upfront payments.
Life sciences companies continue to come up against market, financing and cost challenges today, the nature of which can vary over the lifecycle of a company. It is here that CMS's experience in the sector and understanding of the complexities it holds, can provide clients with valuable support and insight.
Learn more: CMS will host Biotech and Money's quarterly networking event - LSX Connect - at its London offices on 27 June 2018. The evening event will feature a panel discussion that will explore where data and AI can add value in healthcare and life sciences. The panel will include a number of experts in their field and will be led by Rachel Free, Of Counsel (Patent Attorney) at CMS. Find out more.
Feature image © monsitj – stock.adobe.com