Key learnings:
Cognetivity Neurosciences was named joint winner in the Innovations in the Early Diagnosis of Dementia category at the AXA Health Tech & You Awards 2018.
The company has developed an AI-driven cognitive testing platform to assist in the early diagnosis of dementia.
Dr Sina Habibi (pictured), Chief Executive Officer and Co-Founder, discusses the company's technology and its applications, as well as its upcoming clinical trial and listing approach.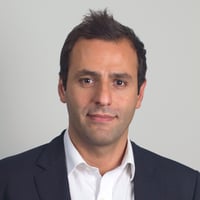 Cognetivity Neurosciences recently won an AXA Health Tech & You Award in the Innovations in the Early Diagnosis of Dementia category, alongside digital health platform Aparito. This category, which is delivered in partnership with research charity Alzheimer's Research UK, recognises innovations that demonstrate excellence in design and technology to support the diagnosis of diseases underlying dementia.
Cognetivity has developed an Integrated Cognitive Assessment (ICA) that helps to detect early signs of cognitive impairment. The ICA is a five-minute test that captures the responses of participants as they are shown a number of images. The proprietary cognitive testing platform then compares these responses to previously gathered datasets to identify whether or not they indicate that individual has signs of cognitive impairment and may be at risk of dementia. The platform is driven by an artificial intelligence (AI) engine that allows for cluster analysis around factors such as response time and accuracy, as well as demographic data such as age and gender.
Focusing on visual cognition allows for earlier detection of dementia, says Dr Sina Habibi, Co-Founder and Chief Executive Officer at Cognetivity. "This function of the brain is one of the earliest that is affected by the disease," he explains. "Most of the other technologies available focus on memory, and by the time memory is heavily affected it's too late." In addition to its function as a screening tool to support the early diagnosis of dementia, the ICA could also be utilised for monitoring the progression of the disease and the effect of treatment methods.
Laying the foundations to scale
After conducting a number of pilot studies, Cognetivity is set to run a clinical trial at Maudsley Hospital, part of the South London and Maudsley NHS Foundation Trust. "This is going to be our validation trial, to support regulatory approval for the ICA's use as a clinical tool in Europe and the US," says Habibi.
The company intends to launch its commercial campaign following the completion of the Maudsley Hospital trial and submission of the data to regulators. Habibi says: "We believe with our scalable solution we can tackle one of the biggest challenges we have with dementia at the moment, which is accessible triage at primary care to send the right people to a specialist for diagnosis, and also [make] the diagnosis earlier to give us a chance to fight the disease."
To reflect the company's ambitions to scale its cognitive testing platform, Cognetivity is also taking steps to expand the reach of its investor base in Europe and North America. In March 2018, it listed on the Canadian Securities Exchange (CSE) and in May 2018 it listed on the Frankfurt Stock Exchange. "What we're tackling is a problem with a global impact and a global market," says Habibi. "Because we're tackling this global problem with a huge economic impact, this gives us access to and recognition in all these markets."
Taking part in initiatives such as the AXA Health Tech & You Awards 2018 enables the company to engage with healthcare providers, helping it to understand their needs and to gain increased visibility. As Habibi points out: "Healthcare is a very complicated ecosystem. […] This will only become simpler to navigate when the players know each other and each other's capabilities, and get in touch at an early stage."
Exploring alternative applications
Cognetivity's platform also has potential applications in other medical and non-medical areas. This includes screening tools for clinical trial patient recruitment and subsequent treatment monitoring. The tool could also be utilised to monitor and optimise cognitive performance and/or monitor concussion in a professional or sports setting, for example.
Partnerships in such areas and participation in larger-scale trials can also assist in refining the AI techniques behind the company's platform, notes Habibi. "We're taking into account some interesting measures that have never been tried before," he says.
Looking to improve the quality of longer lives
For now though, Cognetivity's main focus is on early-stage dementia and its first planned product launch will target primary care screening for the disease. While there are no current cures for dementia, early diagnosis could help individuals to better understand and manage the disease and seek support for symptoms, as well as providing cost benefits. Longer life expectancies make dementia diagnosis, care, and research a particularly pressing issue for societies, governments, and healthcare systems. Habibi hopes Cognetivity's technology will play a role in enhancing the quality of life of people with dementia. He says: "We know that we're going to live for longer as life expectancy has been improving and going up over the years, but what I believe will happen is that we can make this longer life a healthier and happier life."
Feature image © pogonici – stock.adobe.com