Key learnings:
Leading US life sciences law firm

Mintz

has been active in the industry for more than 40 years.
Mintz offers a full range of services to life sciences companies of all sizes and stages of development, in addition to representing venture capital firms and investment banks.
Lewis Geffen (pictured), Co-Chair of the firm's Life Science and Venture Capital and Emerging Companies Practice Groups, talks to LSX about developing trends in the life sciences ecosystem, both in the US and internationally.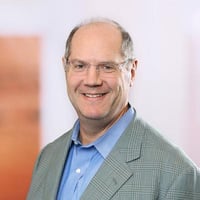 Law firm Mintz, founded in Boston, MA, 85 years ago, has been closely involved in the life sciences industry since its inception in the 1970s. Over the course of more than 40 years in the sector, the firm has served a wide range of biotechnology, medtech, medical devices and pharmaceutical companies, as well as venture capital firms and investment banks. This includes some of the longest-standing companies in the industry, such as Biogen, which it represented from inception through milestones such as its licensing agreement with Schering-Plough in 1979 and its initial public offering (IPO) in 1983.
From its six locations across the US and its office in London, UK, the firm supports companies of all sizes, delivering strategic insights and representation at each stage of a company's growth and development. Lewis Geffen, Co-Chair of Mintz's Life Science and Venture Capital and Emerging Companies Practice Groups, says: "We take start-up companies from organisation with foundational IP and team building through multiple rounds of financing, licensing and collaborations, and growth, to successful M&A exits or taking them public. We provide the full range of services that they need."
In addition to corporate transactions such as mergers and acquisitions, reverse mergers, IPOs and other capital market transactions, angel and venture capital financing, licensing and strategic collaborations, the firm provides regulatory and intellectual property (IP) expertise to clients, including several of the largest pharma and biopharma companies. Across these practice areas, the firm's depth of experience in the life sciences industry is complemented by specialist knowledge, with more than 40 lawyers and agents in the IP practice holding PhDs in relevant academic fields, points out Geffen.
As well as representing US clients internationally, Mintz has global experience working with non-US clients across areas such as collaboration and licensing agreements, venture and capital markets access in the US, IP strategy and patent prosecution.
Early involvement with a long-term outlook
Geffen himself has more than 25 years' experience within the life sciences industry, with client representations spanning both life sciences companies and investors. During this time, he has witnessed the somewhat cyclical nature of the extent to which private investors are able to raise funds to invest in portfolio companies. Recently, however, he has seen a rise in the number of investors becoming more heavily involved in companies at a far earlier stage in their development. This includes taking an active role in company creation, determining strategy, and building the leadership team. "Many venture firms are attempting to de-risk technology and build a management team prior to spinning out a company with significant financing," he explains. "Accordingly, there has been an increased use of venture partners and entrepreneurs in residence."
This early-stage focus is accompanied by a greater emphasis on the quality of syndication partners participating in Series A rounds and their capacity to support companies over a longer timeframe, notes Geffen. As well as increasing the amounts raised during Series A rounds, this investment approach can improve a company's prospects during times of capital scarcity, during subsequent funding rounds and over the course of its longer-term growth and development. "At the other extreme of these early-stage investors, there are late-stage and crossover investors, including regulated mutual funds and investment companies, that, depending on market conditions, may support companies who are preparing to go public in the near term," Geffen adds. "Now, there is an increasing amount of companies that are able to bridge that gap because of the strength of the initial investor syndicate."
A rise in cross-border activity
Cross-border investments are another significant upward trend identified by Geffen in recent years. "US investors are becoming more comfortable investing outside of the US and non-US investors are investing in the US or in Europe," he says. Whether capital is flowing from the US into Europe or vice versa, certain considerations remain the same: "The investor needs to be comfortable with the governance structure and they need to comfortable with the exit strategy," states Geffen. "For example, the ability of many non-US companies to go public on NASDAQ is one reason why US investors can get comfortable investing in companies outside of the USA."
Meanwhile, facilities such as exchangeable share structures, whereby a US company establishes a European subsidiary, can open the door to the participation of a larger number of European investors, he adds. This is a particular area of expertise for Geffen, who highlights the vital role that experience plays when conducting cross-border financing transactions.
Mintz has been involved in investment transactions not only in jurisdictions such as the US, Europe and Israel, but also in Asia. Indeed, the increase in Asian venture funding for life sciences companies is a further shift in the sector's investment ecosystem that should not go unmentioned. Data from PitchBook, presented by Reuters, found that $4.22 billion of Asian venture funding went into the US biotech sector in 2018, up from $2.96 billion in 2017, and $0.64 billion in 2016.
East and West Coast convergence
While the international flow of capital in the life sciences industry may have evolved in recent years, there have also been changes within the domestic investment landscape in the US. One such example, points out Geffen, is greater alignment between deal terms offered to companies by East Coast and West Coast venture capital firms. Whereas the latter tended towards more company-favourable terms, the former were generally more conservative in their approach, says Geffen. "There's been a trend of diminishing the difference between East and West Coast by, in many cases, the large, successful funds moving to company-favourable terms, with the exception of certain areas, such as medtech," he explains.
The East Coast has also become more of a draw to international investors, attracted by the strength and innovation of Boston's life sciences community. "It was probably more common 20 years ago to see a non-US investor set up operations in California, particularly if they were coming from Asia, whereas we now frequently see non-US companies setting up operations in or around Boston," says Geffen. "Boston is really at the hub of a lot of the most cutting-edge research and development, as well as being a very robust ecosystem for life sciences companies with its depth of scientific talent and proximity to capital sources and potential collaborators." According to MassBio's 2018 Industry Snapshot, published in August 2018, 48% of US-based biotech IPOs in 2017 were undertaken by companies in Massachusetts, and biopharma and life sciences companies in the state raised $3.6 billion in venture capital investment last year.
Valuing experience
Regardless of the continuous developments impacting investment trends and the life sciences industry more broadly, Geffen stresses how critical it continues to be for start-ups to seek counsel from a law firm that has significant experience with similarly situated companies and that can add value to the business. "In recognising the importance of that, at Mintz we have programmes and other ways to work within the budgets of start-ups," he adds.
With more than a quarter of a century under his belt working with companies from all corners of the life sciences sector, Geffen leverages the knowledge he has garnered to provide strategic advice and guidance to clients. His enthusiasm for the industry and the people within the life sciences community also remains unabated. "It's one of the most exciting sectors to be involved in because of the cutting-edge science and quality talent with the goal of healing patients and curing disease," says Geffen. "The need for novel drugs and technologies is only going to increase."
Learn more: Gain further insights into how the life sciences industry and investment ecosystem is evolving at LSX World Congress USA, where Lewis Geffen will lead a keynote panel discussion on macro investment trends featuring Dylan Morris, Partner at CRV, and Christopher de Souza, Director at Broadview Ventures. He will also lead a panel focusing on venture capital and the impact of longer-term investment perspectives. This panel will include Arjun Goyal, Co-Founder at Vida Ventures, Andrew Elbardissi, Principal at Deerfield Management, and Mark Chin, Investment Director at Arix Bioscience. The event will take place in Boston, MA, on 10-11 October 2018. Find out more about the event here and join the conversation by following #LSXUSA18 and @LSXLeaders.
Feature image © ngad – stock.adobe.com