Key learnings:
DelSiTech has been awarded significant grant funding from the Bill & Melinda Gates Foundation for the development of thermostabilised viral vaccines.
The Finnish company's DelSiTech™ Silica Matrix is a proprietary biodegradable silica-based drug delivery platform designed to enable the controlled and sustained release of small molecule drugs and biologics.
Dr Cora Griffin (pictured), Head of Business Development at DelSiTech, speaks to LSX about the benefits of the company's silica matrix technology, its in-house and partnered programmes, and the project funded by the Bill & Melinda Gates Foundation grant.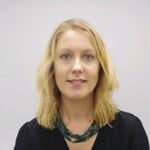 In October 2018, Finnish drug delivery and development company DelSiTech Ltd announced that it had secured grant funding from the Bill & Melinda Gates Foundation. The grant will support the development of thermostabilised viral vaccines using the company's proprietary silica-based technology: the DelSiTech Silica Matrix.
This technology is a silica matrix into which the molecule is embedded via a sol-gel encapsulation process. The non-porous silica matrix biodegrades to allow for the controlled release of the active substance, which could range from a few days to up to a year. The technology is also biocompatible and safe; once the silica matrix has broken down it is excreted in the urine via the kidneys.
The silica-based matrix is capable of delivering a range of small molecules and biopharmaceutical products. "We are currently working with small molecules, peptides, proteins, viruses, vaccines, and RNA. A unique feature [of the technology] is that we can apply it to all types of molecules," explains Dr Cora Griffin, Head of Business Development.
DelSiTech primarily focuses on parenteral and local administration of products, offering intraocular, intramuscular, intratumoural, and subcutaneous administration routes through the DelSiTech Matrix. The company has particular expertise in delivering ophthalmology products through its platform, including an injectable silica composite depot for intravitreal delivery and silica eye drops for topical delivery. "About half of our ongoing collaborations are for intraocular delivery," notes Griffin. "We can deliver molecules to the back of the eye over periods of six months or more, for example, and we can also develop topical eye drops for delivery over 24 hours."
For virus-based products, silica encapsulation can also prolong functionality outside of cold storage. Griffin says: "The matrix itself offers thermostability, which means that instead of having to store viruses at, for example, -80°C, we can store them at 4°C without loss of activity." The ability to provide thermostability to viral vaccines offers clear benefits for countries where cold storage infrastructure is less developed. With the Bill & Melinda Gates Foundation funding, DelSiTech will work to develop silica-based formulations for viral vaccines that confer thermostability over an extended period.
Developing a controlled release product for hepatitis B
The company is advancing an in-house pipeline of supergeneric, or 505(b)(2), products by applying its technology to existing drugs in order to develop long-acting formulations. Its lead programme, 1308, targets chronic hepatitis B. Based on entecavir, marketed as Baraclude, DelSiTech has developed 1308 as a subcutaneous depot product that can be injected every three months. The aim is to improve patient adherence as this is a big problem with current HBV treatment, states Griffin. High compliance is necessary for successful drug therapy as any long treatment break promotes antiviral drug resistance and recurrence is likely to occur when the suppressive effect of antivirals is omitted, she adds. The programme is expected to enter the clinic in 1Q19.
DelSiTech's internal pipeline also includes an ophthalmology product, 1702. A formulation is being developed for an existing, undisclosed product that would treat retinal inflammation over a period of up to three months.
Partnering with pharma and biotech companies in drug delivery
In addition to its in-house programmes, the company works with a number of international partners to develop controlled release delivery of their products via its biodegradable silica-based platform. As well as a collaboration agreement with Solani Therapeutics focused on animal health, the company's disclosed partners include Bayer and Korean biopharmaceutical company, C-Tri Co., Ltd.
The latter partnership, announced in December 2017, builds on a collaboration between DelSiTech and C-Tri for an oncology peptide drug, NHM-CT-007. The agreement centres round long-acting controlled release formulations for the drug, for which development work will be conducted in Europe. The collaboration and technology licensing agreement with Bayer was signed in 2016. This sees DelSiTech's silica matrix drug delivery technology applied to Bayer's ophthalmology compounds.
DelSiTech hopes to establish another licensing deal over the coming months, and looks forward to progressing its lead programme into the clinic in 2019, as well as seeing its partnered programmes advance.
Feature image © goodwin_x – stock.adobe.com