Key learnings:
Cooling device, Grace, won the Peri-Menopause Challenge category at this year's AXA Health Tech & You Awards.
The wristband uses sensors to identify and reverse hot flushes, offsetting this common symptom of the menopause through localised cooling.
Peter Astbury (pictured below), Founder, tells Biotech and Money about the inspiration behind the cooling bracelet and the development of an accompanying app to track symptoms.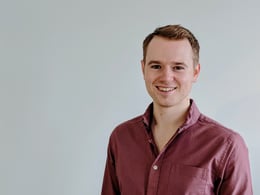 On 9 May 2018, the winners of the AXA Health Tech & You Awards 2018 were announced at a ceremony in London. The annual awards, led by AXA PPP Healthcare, aim to identify health technology innovations across six categories: Innovations in the Early Diagnosis of Dementia; Women Entrepreneurs in Health Tech; the Mental Health in the Workplace Challenge; the Coaching Challenge; the Staying Independent with Tech Challenge; and the Peri-Menopause Challenge.
The four Challenge categories saw individuals and organisations work with accelerator The Bakery to find health tech innovators that may have the potential to partner with AXA PPP Healthcare and address unmet customer needs. In the case of the Peri-Menopause Challenge, the objective was to discover technologies that can help women better understand, manage, and obtain support for peri-menopause symptoms. Wearable cooling device Grace was named winner in this category, after being selected as a finalist alongside the Adia health platform and B-wom digital coaching tool.
Grace is a bracelet that has been designed to support women experiencing hot flushes, a common menopausal symptom. The bracelet incorporates a number of sensors that can detect the onset of a hot flush up to one minute before the individual is aware that they are going to experience one. This activates a cooling tile, which provides localised cooling to the wrist in order to reverse the effects of the hot flush.
The device is automated and can be worn throughout the day and night. Peter Astbury, Founder, explains: "With the sensors detecting the flush and then triggering the cooling automatically, it means we can start to help people not just during the day, but also those encountering night sweats as part of their menopausal symptoms."
Astbury envisions the wristband complementing existing treatments for the symptoms of menopause, where it could be used in conjunction with or as an alternative to current treatment options. While Grace's present focus lies on the menopause, there may also be opportunities to apply the technology to conditions that cause similar symptoms, such as certain types of cancer.
Applying design to an underserved area of women's health
Astbury started developing Grace as part of his final year studies in Industrial Design and Technology at the UK's Loughborough University. The idea to focus on the menopause was inspired by a conversation with a female colleague during Astbury's placement year, which highlighted how underserved menopause is from a design point of view. "While I was [at Loughborough], I always looked to the graduates who had managed to make a product that was really fresh and new and tackled a real issue, which had a genuine impact on people," says Astbury. "It was always my mission to do the same."
Since graduating in 2017, Astbury has been pursuing the further development of Grace and is now looking to undertake more advanced prototyping, testing, and research work to advance the product. To facilitate this development, he is hoping to gain support from investors and collaborations with healthcare companies, and the potential access to resources, mentorship and know-how that these bring.
Grace's participation in the AXA Health Tech & You Awards has been instrumental in enabling the company to forge connections that can help it progress, says Astbury. "The awards provided such a great platform to connect with healthcare providers, investors and experts in the field. [That's] something that is so valuable to start-ups like myself or any other small company," he adds. "It really gives you that possibility of connecting with larger companies and talking about your products."
Such partnerships are one way that Grace could be brought to market. Another possibility is direct-to-consumer sales. Astbury says: "At this stage, we're keeping our options open and looking at what might be the right route to take. What I would say is that it's important for me that this solution is available to as many people as possible. It's an area that affects so many people and that really is [our] mission: to try and bring this to as many people that need it as possible."
Tracking symptoms through an accompanying app
Grace is currently developing a smartphone app for the device. "I took a conscious decision not to place a screen on the actual wristband, but there's a lot of use and functionality that would be valuable in a smartphone app," explains Astbury. The app would allow users to track hot flushes and night sweats, and identify patterns relating to their symptoms.
This could help to inform the user, who may also wish to share the information with their healthcare professional. If users are willing to share aggregated, anonymous data then this could potentially be utilised in larger-scale studies to advance understanding and treatments of the symptoms of menopause, suggests Astbury. "I think [the app] will be very valuable to individuals, but also to medical professionals and institutions," he adds.
Winning a Health Tech & You Award has reinforced Astbury's commitment to providing solutions to support women experiencing hot flushes and night sweats while going through the menopause, as well as others who may be dealing with such symptoms. "People have got in contact with me with personal stories and accounts of their hot flushes. The response has been really overwhelming and that's really nice to see," says Astbury. "When I have those individuals getting in touch with me that gives me even more drive."
Feature image © Dmytro Sukharevskyi - stock.adobe.com