Silicon Valley Bank's mid-year report, Trends in Healthcare Investments and Exits 2018, revealed that US healthcare venture fundraising reached $4.5 billion in the first half of 2018, putting it on track to match 2017's $9.1 billion total. Meanwhile, investments in Series A rounds have outstripped 2017's full-year total of $2.3 billion by hitting $2.6 billion in the first six months of this year. Below, we round up some key facts and figures to provide a snapshot of investment activity, deals, and market potential in the US life sciences sector: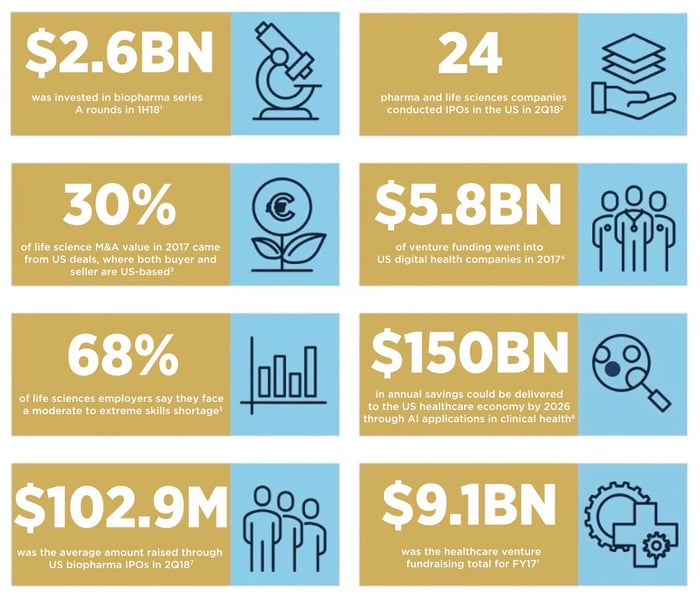 In October 2018, LSX, formerly Biotech and Money, will host a two-day conference and partnering event designed to assist life sciences companies in making the connections and gaining the insights that can propel their companies forward. The event, held in Boston, will include a number of forums and workshops for the industry's C-suite, covering financing, IPO and M&A strategies, as well as therapeutic-specific challenges. The event agenda also includes showcasing and networking opportunities, as well as panel discussions, keynote talks, and fireside chats. Find out more here.
Sources:
1. Trends in Healthcare Investments and Exits 2018: Mid-Year Report 2018, published by Silicon Valley Bank. Read it here.
2. PwC US Capital Markets Watch. Read it here.
3. EY's 2018 M&A Firepower Report: Life Sciences Deals and Data. Read it here.
4. Rock Health's 2017 Year End Funding Report. Read it here.
5. 2018 US Salary Guide, published by Hays. Read it here.
6. Accenture analysis. Read more in its 2017 report Artificial Intelligence: Healthcare's New Nervous System.
7. Locust Walk's Q2 2018 Trends in Biopharma Transactions Report. Read it here.
Feature image © sudok1 – stock.adobe.com