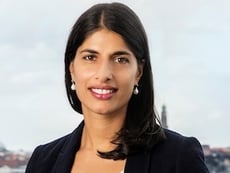 Industrifonden is an evergreen venture capital fund with headquarters in Stockholm, Sweden. The Nordic VC invests in the technology and life sciences sectors, and currently has 13 active investments in the latter.
Established as a foundation based on a one-off donation by the Swedish government in 1979 before later becoming an active VC investor, Industrifonden balances its capacity for long-term investment with a more near-term need to generate returns. "We will never get new capital so we need to generate enough returns to stay in business. In that sense it's a very straight forward business model," says Nina Rawal (pictured), Head of Life Science at Industrifonden.
Within the life sciences industry, the VC primarily invests in therapeutics, medical devices and digital health, typically with a five-year investment horizon. Rather than focusing on investing in companies at a certain stage of development, the firm considers the next value inflection point, explains Rawal. Above all, Industrifonden looks for a strong asset that translates into a clinically-meaningful innovation, providing value for healthcare systems and offering commercial potential. "It doesn't have to be first in class, but it does need to have real clinical impact," Rawal adds.
At present, the VC has three Phase 3 companies in its portfolio. Stockholm-based Calliditas Therapeutics plans to begin enrolling patients in its global Phase 3 study for its lead candidate, Nefecon, developed to treat patients with IgA nephropathy, during the second half of 2018. Sweden's Oncopeptides is undertaking its Phase 3 clinical study for Ygalo® for patients with late-stage multiple myeloma. Privately-held OxThera, also based in Sweden, is conducting its Phase 3 EPHEX Study of Oxabact®, which aims to demonstrate that the product can halt or delay the progression of Primary hyperoxaluria (PH) and preserve kidney function.
Meanwhile, portfolio company InDex Pharmaceuticals is conducting a Phase 2b study of cobitolimod, a potential new treatment for patients with moderate to severe active ulcerative colitis. Rawal says: "For us, it is of course very exciting to have these late-stage [portfolio companies], and to have an opportunity to stay on and hopefully build even more value in late-stage companies."
Adopting an active-ownership model
Industrifonden takes an active-ownership approach to its portfolio to ensure it adds value and supports companies on their development path. As Rawal points out: "It's not just about the capital." This support ranges from assisting companies in establishing the management team, building up their boards, finding the right advisors, and tapping into relevant networks, through to input into the company's development strategy. "We really believe in that model as the best way to influence the likelihood for us to generate a strong return," Rawal adds.
Indeed, Calliditas Therapeutics listed on Nasdaq Stockholm in June 2018, raising SEK650 million. Also in June, Copenhagen-based portfolio company Nuevolution began trading on the Nasdaq Stockholm main market after listing on Nasdaq Stockholm First North Premier in late 2015. This follows Oncopeptides and Swedish orthobiologics company BONESUPPORT, which listed on Nasdaq Stockholm in February 2017 and June 2017, respectively.
Download the Investorview white paper to read the full interview and learn more about the role of Scandinavia's public markets, as well as the maturation of the digital health scene in the Nordics. Nina Rawal will also discuss the venture and growth investment ecosystem in the Nordics in more detail during a keynote panel at the LSX Nordic Congress on 30 August 2018. Learn more about the conference here.
Feature image © sdecoret – stock.adobe.com