Since it was founded in 1996, European venture capital firm HealthCap has invested in over 100 life sciences companies. Headquartered in Stockholm, Sweden, the VC's past and current portfolio spans the Nordic region, Europe, and the US. As Dr Mårten Steen (pictured), Partner, explains, HealthCap's core mission is to build world-leading biotech companies.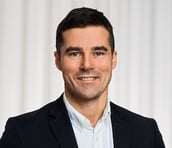 Looking for breakthrough potential
HealthCap invests in companies with breakthrough therapies that address high unmet medical need. "There's a really high innovation pace right now with interesting new technologies making it possible to address diseases that have been difficult to tackle before," says Steen. "It's a really interesting time to invest in biotech." While HealthCap is agnostic in terms of therapeutic area, its focus on unmet need means it is particularly interested in areas such as orphan drugs, oncology, and genetic diseases. "We still see a lot of unmet need in areas like rare diseases and oncology," notes Steen. In addition to breakthrough potential and a strong patient focus, the VC also looks for de-risking components, such as clinical evidence, when considering investment opportunities.
HealthCap invests in life sciences companies across all stages of development, including company creation. "We have been doing this for more than 20 years now, so we have a lot of first-hand experience in creating start-ups," says Steen.
Investing in people
The VC not only provides financial backing to investee companies, it also supports them through access to its extensive experience, skills, resources, and its own network called HealthChaps. "We're very devoted and have conviction in what we do," Steen states. The firm works closely with its portfolio companies, and this is particularly the case for companies in which it has been involved from the point of foundation. "We see ourselves as being part of the new company, a fundamental part of it," adds Steen.
HealthCap also works across borders to bring together the most relevant combination of expertise. "It's really important to us that we stay as connected as possible. We often deal with semi-virtual companies," explains Steen. "You need to find the right experts wherever they are [based] and find ways to collaborate."
Ultimately, a successful venture hinges on the people involved. As Steen points out: "You invest in people and you work with people. Making sure you have a great working relationship is key from day one."
Download the Investorview white paper to read the full interview and learn more about the VC's role in the vibrant Nordic biotech scene. Dr Mårten Steen will also discuss the venture and growth investment ecosystem in the Nordics in more detail during a keynote panel at the LSX Nordic Congress on 30 August 2018. Learn more about the conference here.
Feature image © sdecoret – stock.adobe.com