Key learnings:
Marks & Clerk provides intellectual property (IP) services to companies across the life sciences sector, drawing on the experience and technical expertise of its patent and trade mark attorneys, as well as its sister solicitor firm.
Will Arends (pictured), Partner, talks to Biotech and Money about the importance of establishing a forward-thinking IP plan and explains why confidentiality is key for life sciences start-ups.
Arends also discusses the impact of scientific and technical advances on IP strategy, such as 3D printing and personalised medicine.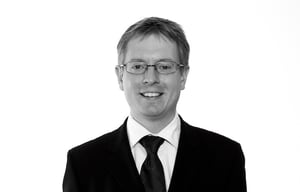 IP firm Marks & Clerk has locations spanning Asia, North America, and Europe, including offices in key UK cities such as London, Oxford, and Cambridge. The company's patent and trade mark attorneys, alongside IP lawyers in sister firm Marks & Clerk Solicitors, offer a broad range of services to the life sciences sector and other industries, from preparing and filing patent applications, to freedom to operate analyses and opposition activity at the European Patent Office (EPO), through to commercial services.
While Marks & Clerk has expertise across the full spectrum of technical areas within the life sciences sector, Will Arends, Partner in the firm's London office, highlights CRISPR technology and immunology as particular areas of specialty within its biotechnology practice, and to stent grafts within medtech and medical devices.
Developing a forward-looking IP strategy
In the life sciences industry, Marks & Clerk works with clients of all sizes and at all stages of development. For start-ups and early-stage companies, one of the key IP-related issues that should be taken into consideration is confidentiality, notes Arends. If technical information does not remain confidential until a patent application has been filed then it could invalidate that and future patents.
Non-disclosure of confidential information should also be a responsibility that extends to individuals that no longer work for a life sciences company. This issue is especially pertinent for young companies where personnel may be involved on a short-term or part-time basis. "If a company is set up for a particular purpose and contains confidential information, as it often does in the biotech start-up field, then the directors and staff of the company have an obligation to keep that confidential and not use it even after they leave the company, for example, to set up another company or publish themselves," explains Arends. "There can be various issues that arise here, such as breach of confidential information or breach of the fiduciary duties of directors."
Developing a clear IP plan, and cascading this information down to company personnel, can help to ensure that all parties are aware of the importance of protecting IP. Arends says: "That should make it a lot clearer that this technical information is a critical asset of the company and, therefore, not something that should be given away or divulged."
It is not just the value of confidentiality for IP protection that start-ups should consider, establishing ownership of IP early on can also prevent undue complications from arising in the future. "It's one of those things that can seem very minor, but actually if you get it wrong it can have big consequences," warns Arends. The question of who owns an invention might occur when the inventor is working elsewhere at the time of the invention, such as at a university, or if the invention is the result of a collaboration, for example. "It's important there's a clear chain that sets up how, in legal terms, the ownership of that invention is passing from the inventor to the company," Arends explains. This will often take the form of a legal contract, which can also include a requirement to keep technical information confidential.
The evolution of patent case law
There have been some recent decisions that challenge established thinking on aspects of IP case law, and that life sciences companies would do well to be aware of. One such aspect is plausibility. Arends explains: "To obtain a patent, particularly in the biotech field, it is normally necessary to demonstrate that a particular product has a particular effect, such as a therapeutic effect." If the effect is deemed to be plausible in the filed patent application, then the patent owner can subsequently present technical data to support the claim. Yet, further data cannot be used if the effect does not pass the plausibility threshold in view of what is disclosed in the original application.
Cases such as the Boards of Appeal of the European Patent Office's 2017 decision to uphold the revocation of Bristol-Myers Squibb's dasatinib patent, imply a hardening of the requirement for the plausibility threshold to be met. In this instance, the Board found that the patent application did not include sufficient verifiable evidence to demonstrate the activity of the dasatinib compound and establish plausibility. "The take home message from that case was that an assertion of activity in a particular product must be plausible; it must be based on verifiable facts. Just asserting [the product] had an activity is not enough," says Arends. Following such decisions, the information included in patent applications should be carefully considered, and there may be occasions where patent filing may need to be delayed until data is available, he explains.
Elsewhere, in countries such as the US, the patentability of natural products has come into question, with the eligibility criteria tightening. A gene, for example, may no longer be considered patentable because it is naturally occurring. "My personal experience of this is that, usually, it is possible for us to find some way around this, but it can mean we have to have narrower patents than we did in the past in those countries," says Arends.
Thinking ahead: the patenting and potential of 3D-printed products
While the case law landscape may be evolving, IP strategy is also being shaped by advances in technology. Arends cites 3D printing as an example of a technology that he sees as having increasing potential going forward, particularly in terms of its applications in medtech. 3D printing allows for bespoke production, where items can be printed locally and where each item may differ. If a product may be produced in this way in the future, then this should be considered when patenting the invention. "At Marks & Clerk, we think in many cases there are strategies for addressing this and ensuring IP still covers these areas, it's just a case of us being aware of it at an early stage," says Arends. "It also means we have to ask the right questions: is this a product that could be made with 3D printing at some point? We're always conscious here that patents generally last 20 years so even if [3D printing] is not something that could be contemplated right now, if it could happen in 10 years' time, that's still something we want the patent to cover."
The personalised medicine patent challenge
The lack of a clear supply chain or production process, as well as the bespoke nature of 3D-printed items, throws up patent challenges that are echoed in a growing area of healthcare: personalised medicine. This emerging field presents two principal difficulties for patent attorneys. Arends says: "One [difficulty] is that when patents are first written, if the invention concerns personalised medicine, how do we write the patent so it covers a broad enough scope that it will cover not just one individual, but an entire concept or invention?" This challenge is compounded in certain jurisdictions, such as Europe, which do not allow for the patenting of methods of treatment, he adds.
The second potential hurdle lies in the enforcement or policing of patents relating to personalised medicine. "If the invention only gets put into effect inside a patient or at the very last stage before it goes into a patient, then it can be difficult to enforce that," explains Arends.
Patenting challenges may also arise for innovations in microbiome technologies, where patents may need to be sought for a particular bacterial consortium. "It's something we keep a close eye on," notes Arends. "We think there may be a lot of inventions coming out of that in the future."
While there may be no simple answers to these challenges, Arends is confident that solutions can be found by examining developments in these areas and establishing how best to help inventors in each case.
Feature image © Katja Xenikis – stock.adobe.com