Key learnings:
Scandinavian biotech NMD Pharma has raised €38 million from new and existing investors in its Series A round.
The finance raise will support the company as it develops novel treatments for neuromuscular disorders, enabling it to take two programmes through proof of concept.
Thomas Pedersen (pictured), Chief Executive Officer (CEO) at NMD Pharma, talks to Biotech and Money about the research upon which the company is built, and shares his key learnings for university spin-outs.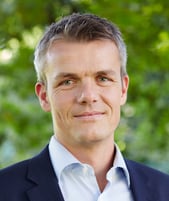 Strengthening neuromuscular transmission
In March 2018, Denmark-based NMD Pharma announced that it had secured €38 million in its Series A financing round to advance the development of its first-in-class therapies for neuromuscular disorders.
The pre-clinical stage biotech is built on 15 years of academic research conducted by Associate Professor Thomas Pedersen and Professor Ole Nielsen at Aarhus University, Denmark. The spin-out, co-founded by Pedersen and Nielsen, together with Claus Olesen, is developing small molecule inhibitors of the ClC-1 ion channel. "This ion channel is skeletal muscle specific, effectively it's like an electrical break on excitation or activation of muscle, so it counteracts the excitation of the muscle," explains Pedersen. "In conditions where it's hard to activate muscle or patients feel weak because they cannot activate muscle, inhibition of this channel is an effective way of bringing in the muscles that were not able to be activated."
ClC-1 inhibition can help to strengthen neuromuscular communication, with applications in the treatment of rare neuromuscular disorders and in acute hospital care indications where there are neuromuscular transmission deficits. The Series A round will support NMD Pharma in developing a programme in each of these two applications through proof of concept. The company's core focus over the year ahead will be the selection of its two drug candidates to take forward through these programmes.
Securing investor support to take novel therapies forward
The €38 million finance raise was led by new investor Netherlands-based venture capital firm INKEF Capital, alongside new investor Roche Venture Fund, and existing investors Novo Seeds, and Lundbeckfonden Emerge. It follows a seed financing round involving Denmark-based investors Novo Seeds, Lundbeckfonden Emerge, and Capnova in 2016.
Pedersen attributes the strength of the company's investor syndicate in part to the compelling data obtained from the animal studies it has conducted. Indeed, the in-vivo data in animal models has also been one of the highlights for the company thus far. "Just administering the compounds and seeing rapid effect is really quite an exciting moment for the whole team," says Pedersen. "We're doing these experiments first and showing that it works." The ability to observe and measure the effects of therapies soon after application will also provide some de-risking benefits when it comes to clinical trials, adds Pedersen. The broad range of conditions that these novel therapies could help to treat further rounds out NMD Pharma's appeal.
As well as financial backing, the support of the company's investors has contributed to NMD Pharma's progress in a number of ways. This includes access to investors' industry knowledge and sizable networks, notes Pedersen, whether that be facilitating connections with other investors or with those who can provide additional insights to the company as it develops. Just as significant is the faith investors have demonstrated in the company's management and capabilities, adds Pedersen. He explains: "They believed we could do it. That means we were given some element of freedom to do it our way. I think that's an important lesson that you have investors [who] also create some space for the management."
Navigating the complexity of drug development
Since spinning out from Aarhus University, NMD Pharma has enjoyed some noteworthy milestones, not least its €38 million finance raise. Over the course of the company's development, Pedersen has also picked up some key learnings. Namely, the importance of understanding the complexity involved in developing treatments and bringing them to patients, and accepting that additional support will save time and improve the prospect of success. "You have to realise your own limitations," says Pedersen. "You have to face that and surround yourself with the right people for completing the many different tasks that need to be done to develop a drug. You really need to create a strong team of experts around you."
It is also vital that academics are aware of the importance of intellectual property (IP) and understand that publishing research could result in the failure of a future patent application and thus impede the development of a new treatment. Pedersen says: "Securing IP is not just about building a company and building value in a company, it's also about protecting the possibility [of treatment] for patients."
Feature image © phive2015 – stock.adobe.com