Key learnings:
PhoreMost completed its Series A round in May 2018, with a total investment of £11 million from new and existing investors.
The University of Cambridge spin-out identifies new therapeutic targets and druggable sites within those targets to address unmet need in cancer and other disease areas.
Dr Chris Torrance (pictured), Chief Executive Officer, talks to Biotech and Money about the funding round, the company's asset-centric business model, and its mission to increase the diversity and affordability of therapies.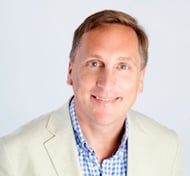 In May 2018, UK-based biopharma company PhoreMost announced the successful completion of its £11 million Series A round. The funding round included existing investors Amadeus Capital Partners, Cambridge Enterprise, Jonathan Milner, and Parkwalk Advisors. New investor Morningside Ventures also participated in the round, with Dr Gerald Chan, Co-Founder of Morningside, joining the company's board.
PhoreMost finds drug targets for the development of novel therapeutics for a diverse range of disease areas where there is unmet need. It does this through its SITESEEKER® platform, a live-cell phenotypic assay system that identifies druggable sites within disease targets based on the company's protein interference technology, PROTEINi®.
The Series A round will allow the company to identify a broader range of targets and support their progression into drug discovery. PhoreMost recently took its first target from the platform into drug discovery, a significant milestone for the company which spun out from the University of Cambridge just three years ago. The £11 million finance raise will also help drive the expansion of PhoreMost's operations at Cambridge's Babraham Research Campus, which has already commenced with a move to a larger laboratory and a recent hiring round.
The company's core focus for the year ahead lies on getting more targets from its phenotypic screening platform into drug discovery. This is not only facilitated by funding, but also on finding the right partners, notes Dr Chris Torrance, Chief Executive Officer at PhoreMost. "We're continuing to build a network of partners for the downstream aspects of drug discovery," says Torrance. "We're doing the key first part – find the direct target, find the right place in the target." When it comes to the downstream work, the company is looking for next-generation technologies that enhance the drug discovery process, such as the use of artificial intelligence (AI), Torrance adds.
Developing a collaborative and asset-centric business model
PhoreMost takes an asset-centric spin-out approach, whereby novel targets are developed through spin-out companies. Its first such spin-out, immuno-oncology company NeoPhore, launched in November 2017 with the support of a £3 million investment from Sixth Element Capital, which manages the £70 million CRT Pioneer Fund.
As well as delivering returns to investors, this business model aligns with PhoreMost's mission of bringing a greater diversity of therapies to market more efficiently and at a lower cost. "We'd like to be a different kind of drug discovery company," says Torrance. "We use the term 'ethical' drug discovery company in the sense that we'll do targets nobody else will do because they're too hard or not economical enough."
Both this asset-centric approach and collaborations with academia, other biotechs, and pharma mean that risk and reward are shared, explains Torrance, which could help address high drug prices. PhoreMost has already established collaborations with research institutes and academic partners, including The Wistar Institute and the University of Cambridge, and has signed two pharma collaboration deals to date. "This new model of drug discovery where smaller groups, academics and efficient entrepreneurial companies combine expertise is probably the way to go, because I think the pharma model is creaking. There's a lot of duplication [and] they have a lot of costs. I think it's time for a change."
Feature image © alex aldo - stock.adobe.com