Key learnings:
At this year's Biotech and Money Awards, Carrick Therapeutics was named winner in the UK Private Finance Raise of the Year (>£25 million) category. 

The company was launched in October 2016 with $95 million (approximately £72 million) in initial funding. 

Dr Elaine Sullivan, Chief Executive Officer (CEO), spoke to Biotech and Money about the finance raise, the company's vision, and how the collective experience of those working for and with Carrick has contributed to its development.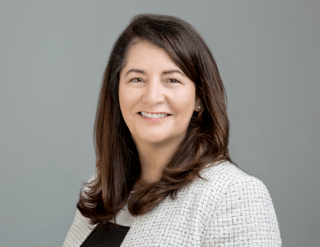 Carrick Therapeutics was established in October 2016 with an initial funding round that saw it raise $95 million and subsequently earn the accolade of UK Private Finance Raise of the Year (>£25 million) at the Biotech and Money Awards 2017. The funding, equivalent to approximately £72 million, was co-led by ARCH Venture Partners and Woodford Investment Management, with participation from Cambridge Enterprise, Cambridge Innovation Capital, Evotec, Google Ventures, and Lightstone Ventures.
"We are fortunate to have the support of investors that have impeccable track records of accelerating the development of cutting edge science into new therapies," says Dr Elaine Sullivan (pictured left), CEO at Carrick Therapeutics. "What is key to successful financing is that the investors with whom you are creating the company are aligned with your vision," she explains. "This was extremely important to us at the start, and it continues to be important as Carrick progresses."
Seeking a step change 

Carrick Therapeutics' vision is to build Europe's leading oncology company. The organisation is developing an innovative, world-class R&D pipeline focused on the critical pathways that drive cancer progression and resistance.
While many other companies bank on a single molecule or biological mechanism pathway, Carrick Therapeutics is creating a multi-asset portfolio, looking at multiple pathways rather than focusing on one particular pathway or mechanism. By linking a network of clinicians and scientists in internationally leading research institutes and hospitals, Carrick will drive its portfolio of ground-breaking cancer therapies from laboratories to the clinic. 

This network includes Cancer Research UK, as well as researchers from across the world's leading academic institutions, such as Imperial College London and the Universities of Cambridge and Oxford. When it comes to research partners, the company is seeking collaborations that will result in step changes in cancer therapy. "First of all, we're looking for science that is incredibly exciting," says Sullivan. "At its heart, Carrick has a consistent patient-focused vision, and that drives our pursuit of mechanisms that we feel will deliver transformational change for cancer patients. This means we work with research partners at the forefront of their fields, who are committed to pioneering pathways that can deliver those outcomes."
One such research partner is Professor Steve Jackson, the University of Cambridge Frederick James Quick and Cancer Research UK Professor of Biology, and Head of Cancer Research UK Laboratories at the Wellcome Trust/Cancer Research UK Gurdon Institute. One of the founding assets in the company's portfolio is derived from the Steve Jackson Laboratory, and Professor Jackson is also a member of Carrick Therapeutics' scientific advisory board. He pioneered the work that resulted in a new medicine, known as olapararib/Lynparza™, to treat ovarian cancer based on the molecular profile of the patient.
The company's youth belies its experience. Carrick Therapeutics' leadership team has extensive experience in the sector, which has helped to drive the company's strategy and development in the 12 months since its launch.
Sullivan says: "Everyone in the team has outstanding track records in the development of new medicines, and they bring their own expertise, experience and insight to the company. It is this collective knowledge of biopharmaceutical development that makes Carrick very special.
"The knowledge and experience available to Carrick Therapeutics is further enhanced by the company's board members and its scientific advisory board, a prestigious team of internationally recognised clinicians and scientists, which is chaired by Sir John Bell, Regius Professor of Medicine at the University of Oxford.
"In addition, we are collaborating with a network of world-class scientists and clinicians in top institutes such as Cambridge University, Imperial College London, Oxford University, The Christie Hospital in Manchester, Edinburgh University and University College Dublin.
"To enable a rapid execution and enhanced selection of compounds across the R&D value chain into the clinic, we have a unique collection of platform technologies and strategic alliances."
Sullivan believes it was the experience of the team, as well as the R&D pipeline, that made Carrick Therapeutics stand out to investors. "They have unique insight and expertise in identifying and developing commercially successful, innovative medicines," explains Sullivan. "So [the investors] had confidence in the team, they had confidence in the pipeline, and they had confidence in the company's ability to deliver its vision."
Laying rock-solid foundations
In discussing the next steps for the company, Sullivan highlights the company's name: Carrick derives from the Irish word for rock. "We want to create the foundation for Europe's leading oncology company," she says.
For now, Sullivan is pleased with the company's progress and is looking forward to what is to come. "We're progressing assets to the clinic and will be in a position to update on developments in the near future. This is down to both the hard work of the team and the outstanding support we've had from our prestigious advisors, board, investors and our collaborators.
"Carrick's mission is creating Europe's leading oncology company, and we believe we have the strong foundation and developing pipeline that will enable us to achieve our goal. There is a significant unmet need in cancer treatment, and targeting the critical pathways that drive cancer progression and resistance is an area where we can make a real difference to patients' lives."
Take a look at the full list of winners at this year's Biotech and Money Assembly and Awards Gala Dinner.