Key learnings:
F-star's John Haurum was named UK Private Life Science CEO of the Year at the Biotech and Money Awards 2017.
Haurum joined F-star in 2012 and has since led the company through a significant period of growth.
In this Q&A with Biotech and Money, Haurum discusses the most exciting and challenging aspects of working in biotech, his hopes for the UK life sciences sector, and what he most enjoys about working at F-star.

What is your proudest career achievement to date?
It's this feeling of having been part of successfully taking this from a platform company to a company with an intriguing and full-blooded product pipeline.
When I joined in 2012 there was somewhere between 15-20 people, and all of the work was at that nexus between how we apply the technology and in what product area, and what are the areas where this is applied. Today we have a company that is not defined by that question but is defined by how we make the best choices between a range of different compounds that could all potentially help patients suffering with cancer. And that pivot, having that now as our key situation and choice to make, for me it's really very rewarding to have been part of that journey with the company.
What do you most enjoy about working at F-star?
We have a fun and very informal culture. It's very open and very diverse, and that is absolutely critical; one of the best things of being part of the team here is that we have people from all over the world. We have more than 20 different passport nationalities amongst 80 people, and a significant degree of diversity in every aspect of the work.
What do you feel are the most exciting and challenging aspects of working in biotech?
The most exciting aspect of working in biotech for me is that the biology we are grappling with is both difficult but also immensely intriguing. Once you start understanding, for example, how the immune system works, it's enormously fascinating. I think it's extremely exciting to work with that, then apply it in a way that potentially helps us be better able to treat patients who suffer from very serious diseases.
I think the most challenging aspect of working at this end of the food chain in biotech is it takes so very long to actually get to that point where you have the ability, in a standard way in a hospital setting, to treat a patient. I've been in the industry since 2000, so roughly 17 years now, and the most advanced product I have been involved in putting into the clinic from the beginning to where it is today, is just about to hit Phase 3 trials. That's a compound I was involved in putting into the clinic about 10 years ago, made by Symphogen in Denmark.
We are all in this industry where we are perhaps anxious to see the fruits of our labour, but it just takes years to get there.
What are your hopes for the wider life science industry in the UK over the next few years?
I think the life science industry in the UK is blessed with a fantastic fundamental set of life conditions: we have great business incentives, the R&D tax credit, and the focus in general from society's point of view and government's point of view in terms of making it an attractive place to do life science business. It's really very valuable for our industry here in the UK and makes it stand above, I think, most countries in Europe.
But I also see a huge cloud looming over everything with Brexit, in particular with respect to the free movement of labour within the EU. If it is becoming more difficult for future job candidates to get into England from continental Europe, that would definitely impact a company like F-star.
Roughly half our employees have a British passport, the rest have foreign passports - and the majority of those are actually various European continental passports. It would be significantly detrimental to our business if it were to be hard for us to recruit potential staff from all over Europe in the future.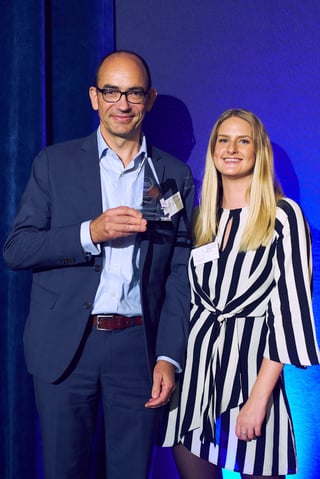 The government really need to get their act together and fix this. They can do this unilaterally, there's no need to wait until the Brexit negotiations are finished. It baffles me why nobody has shown strong leadership and come out and said: this is what it's going to be like in the future, regardless of what happens with Brexit. They could do that and settle that uncertainty once and for all.
So, the light leadership on that right now is very problematic but I hope they will fix it. On a good day, I think 'of course they will fix it' because it should be quite straightforward and there's no reason to not continue at least as it is now. It should not become more difficult.
What piece of advice would you give to the next generation of leaders in the life science sector?
I think it's to try to avoid becoming local and narrow minded, to always keep an open mind and not be complacent. It's very important to remember that everyone as an individual is always limited, and there is always someone that knows something else that you could learn from. Try to keep an open mind and look for synergistic knowledge elsewhere.
F-star was also named winner in the UK Life Science Deal of the Year category at the Biotech and Money Awards 2017 for its partnership with Merck. Learn more about the award-winning deal and F-star's wider business strategy.
Take a look at the full list of winners at this year's Biotech and Money Assembly and Awards Gala Dinner.