Key learnings:
Horizon Discovery was named winner in the Public Life Science Company of the Year category, sponsored by CMS, at the Biotech and Money Awards 2017, while its CEO, Darrin Disley, was voted UK Public Life Science CEO of the Year.
The company also triumphed in the Life Science Communications Plan of the Year category, sponsored by EQS, for its work with Consilium Strategic Communications.
Here we take a closer look at the impact of the communications plan, the synergies provided through Horizon's acquisitions, and how its products and services support the development of precision medicine and gene therapies' potential.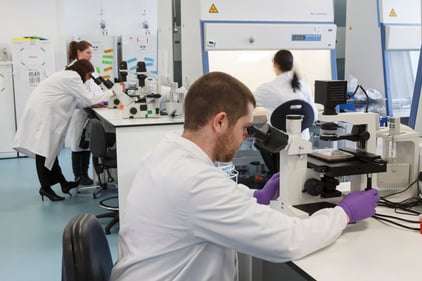 Horizon Discovery scored a hat trick at the Biotech and Money Awards 2017: it won the Life Science Communications Plan of the Year Award, sponsored by EQS, alongside Consilium Strategic Communications; received the Public Life Science Company of the Year Award, sponsored by CMS; and Chief Executive Officer (CEO) Darrin Disley was recognised as UK Public Life Science CEO of the Year. Learn more about the award-winning communications strategy, the company's recent acquisition of Dharmacon, and its key aims for the year ahead…
Delivering value through acquisitions
Horizon Discovery is a specialist in designing and engineering cells using gene editing and gene modulation tools, offering a number of products and services to support the advancement of human health and personalised medicine. Since it was founded in 2007, the company has undergone significant growth; it has offices in the UK, Europe and the US, and supports more than 10,000 customers across academic research, drug discovery and manufacturing, and clinical diagnostics. In 2014, Horizon listed on the London Stock Exchange's AIM market, with a 6.5X oversubscribed IPO that saw the company raise £68.6 million.
Since 2014, Horizon has also completed four acquisitions: US-based CombinatoRx service business and related assets from Zalicus Inc. in 2014; US-based Sage Labs Inc. in 2014; Austria-based Haplogen Genomics in 2015; and US-based Dharmacon in 2017.
Horizon acquired Dharmacon, a leader in gene modulation products and a subsidiary of GE Healthcare, in August 2017 for £65 million. The acquisition is in line with Horizon's objective of building a cash generative business by 2018 with an 80:20 product-to-services revenue model. It also brings with it significant synergies, including the enhancement of Horizon's ability to offer integrated solutions through the addition of Dharmacon's gene-editing product portfolio.
"Now, with the acquisition of Dharmacon complete, and a strong cash position in place, we have a significant opportunity to embark on an ambitious programme of targeted investment, aggregating the best technologies, IP, and capabilities from around the world to rapidly build a global powerhouse that will help drive the next century of healthcare innovation and better outcomes for patients," notes Disley. "We will continue to look for acquisition opportunities in areas related to our core business or which offer market and geographical expansion opportunities. They will always be accretive to both the top and bottom line."
Attracting investment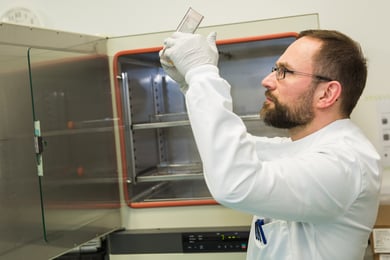 The acquisition of Dharmacon was funded by a share placing that raised £80 million. Not only was the placing oversubscribed, it also attracted investment from new, international shareholders. Disley cites the recognition of gene editing and personalised medicine's potential, and Horizon's role within this, as a key reason why the business has garnered such a high level of investor interest.
Disley says: "There is a revolution underway in life sciences where knowledge of the genetic drivers of disease are enabling more focused drug development programmes, increasing returns on investment by lowering the development costs and timelines. At the same time, genetically-targeted medicines promise to deliver more personalised treatments and tremendous levels of investment are going into areas of therapeutic development: immuno-oncology, and cell and gene therapy.
"Horizon is at the epicentre of this revolution, applying our gene-editing toolbox to build or modify cells that harbour or correct the genetics of human disease. The applications are extremely broad, from research tools provided to scientists exploring the underlying biology of the disease, through the use of our models by pharmaceutical customers to develop and manufacture novel therapeutics, to supporting the reliable diagnosis of disease through better reference standards."
Increasing understanding and gaining recognition
The biggest challenge the company has faced is restructuring from a silo to a matrix organisation in 2016-2017, following its first three acquisitions in 2014-2015, explains Disley. Horizon now has a complex business model that includes B2B and B2C products and services, in addition to out-licensing and spin-outs, he adds. It was the aim of the award-winning communications strategy, developed with Consilium Strategic Communications, to articulate this model in order to increase press, public and investor understanding of the impact of the company's work on the development of personalised medicines and cell and gene therapies.
"This was a challenging task that we have clearly met, evidenced by the high-profile articles written on the company in local, regional and national press, and the attention we are getting from investors and analysts both in the UK and the US – more than 25% of shareholders are now in the US - following the acquisition of Dharmacon from GE Healthcare," says Disley.
The communications plan has had a positive effect on perceptions of the company among the investment community. Disley explains: "While Horizon is now widely known among our customer base as a global leader in gene editing and the support of personalised medicine, it has been more challenging as a company that doesn't execute a traditional biotech model to gain stature and recognition among the UK generalist investment community. This has completely transformed over the past two years, and now almost every door is open to us, with virtually all blue chip UK life science investors and many US specialist healthcare investors are either currently invested in us or are closely following and in an active dialogue with us."
Stock tip and media coverage may also have contributed to an improved market for the company's shares, which have risen from 104 pence in early December 2016 to over 250 pence at the end of October 2017.
Future focus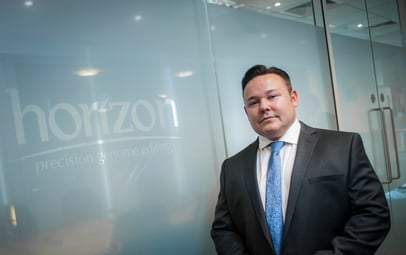 Horizon is now focused on integration and delivery of potential synergies following the acquisition of Dharmacon. Its financial objectives include generating revenue of £37-41 million and break-even EBITDA in 2017 through cost management, and to be cash-flow positive from 2018 onwards.
Horizon also aims to achieve an increase in asset value for Avvinity Therapeutics, its 2016 joint venture with Centauri Therapeutics, and for any further spin-outs, as well as driving additional upside value through the formation of drug milestone and royalty payments.
Read more about what Darrin Disley (pictured above, right), UK Public Life Science CEO of the Year, most enjoys about working at Horizon, his views on the greatest challenges facing the sector, and why he thinks new companies need to put global scale-up on their agendas, in Winner's spotlight: Horizon Discovery's Darrin Disley.
Take a look at the full list of winners at this year's Biotech and Money Assembly and Awards Gala Dinner.