Key learnings:
Oxford-based Oxehealth has secured medical device accreditation for its vital signs software in Europe. This provides remote spot measurements for breathing and pulse rate via an optical sensor.
The software will be made available as part of the company's Digital Care Assistant solution, which has been developed to reduce risk of injuries and falls and support the care of the vulnerable and elderly.
Hugh Lloyd-Jukes (pictured), Chief Executive Officer, explains how the system can assist staff in care homes, mental health, hospital and custodial settings, outlines the next steps in the company's growth, and talks through a project with Mayo Clinic researchers to investigate the technology's application in space medicine.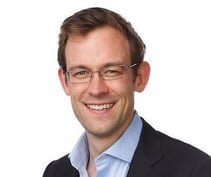 In September 2018, UK software-as-a-service (SaaS) company Oxehealth gained Class IIa medical device accreditation for its vital signs measurement software in Europe, the first time worldwide that technology of this type has been approved as a medical device.
The Oxehealth vital signs product can remotely take spot measurements of an individual's breathing and pulse rate via a digital video camera. Its software uses proprietary signal processing techniques to identify changes in skin colour as the heart pumps blood around the body, which the software then counts to calculate pulse rate. In order to measure breathing rate, the technology detects movement in the individual's chest and diaphragm.
The medical device accreditation, issued by the British Standards Institute (BSI), follows six years of work by the IP Group and Ora Capital-backed University of Oxford spin-out. The software, which has undergone tests at Oxford's John Radcliffe Hospital, Broadmoor Psychiatric Hospital, and Coventry and Warwickshire Partnership NHS Trust, has been designed to support the care of the vulnerable and elderly at times when it is either not possible or not appropriate for staff to enter a patient's room.
The vital signs product will be made available as part of Oxehealth's Digital Care Assistant (DCA) solution. This offers activity tracking solutions that alert staff when patients may be at risk. The optical sensor detects activity within the room and can notify staff if a patient gets out of bed, is on the edge of their bed, leaves their room, or is in the bathroom for an excessive amount of time. In doing so, staff are able to assess if a patient requires assistance, reducing the risk of falls, injuries and self-harm.
"When you introduce a secure optical sensor into a room, that is then paying attention to that room when staff can't be there," says Hugh Lloyd-Jukes, CEO at Oxehealth. "It's helping staff care for the right patient in the right way at the right moment."
Tackling the corridor problem
As Lloyd-Jukes explains, the vital signs software and wider DCA solution have been developed to address three of the key challenges presented by 'the corridor problem'. First, contact-free spot checks can reduce the disturbance of patients during rounds, enabling them to rest without interruption. Second, the system can assist with patient care and safety in the period between rounds. For example, if a patient at risk of falls were to get out of bed in the moments after a staff member had checked on them, the system would alert staff who could then determine whether or not they need to return to the patient's room to provide help.
Third, it could help to the reduce the time and administrative burden on staff. "[It's] a way of genuinely giving more time to carers and clinicians for hands-on care, and that transforms how they could do their jobs and it can greatly improve job satisfaction," says Lloyd-Jukes. Oxehealth focused on aligning the system with existing organisational workflows so that it would not impose any additional tasks on staff members.
The DCA's functionality also includes activity tracker reports, which could be used to inform patient care, potentially contributing to improved patient outcomes and cost savings. "Overall, you reduce costs because you reduce serious injuries and provide better care planning, and you can plausibly step people into less acute settings sooner," adds Lloyd-Jukes.
It should be noted that the system does not stream video feed from a room. The clinician or staff member can only temporarily view a video feed when required for patient care. Lloyd-Jukes explains: "We are adding privacy here so the principle is that it only shows alerts, unless the caregiver who can enter the room chooses to look at the video."
Assisting staff in caring for the vulnerable and elderly
Oxehealth's technology is targeted for use in care homes, mental health, and custodial settings. The company places an emphasis on maintaining a disciplined focus on supporting the vulnerable and the elderly, and the staff caring for them.
"You see that in a lot of deep tech businesses, like ours, one can get lost in all the possibilities," says Lloyd-Jukes. "To look at [all the market possibilities] carefully but ultimately identify a market that has such a pressing need and for which we are uniquely useful, is something I'm very proud we've managed to do. There's a lot of hard work involved in turning this young business into a big business that supports clinicians, carers and custodians globally, but that struggle to focus a deep technology that many companies are confounded by, I'm pleased we've got through that successfully."
To date, the DCA is contracted to 16% of English Mental Health Trusts, three care home organisations in the UK and Sweden and two police forces. This includes the Coventry and Warwickshire Partnership NHS Trust, which introduced the technology in 2017 at Manor Hospital, an inpatient dementia facility with two 12-patient wards. The Trust wanted to lower fall rates at the facility where a number of patients are classified as 'at high risk of falls'. In a staff user survey, 100% of respondents reported that the Oxehealth system had improved patient safety on the ward at night, and 79% reported that it had directly enabled them to prevent a fall. In July 2018, the Trust extended use of the DCA to its mental health inpatient services at the Caludon Centre, rolling the technology out across 65 bedrooms on the Psychiatric Intensive Care Unit and Male and Female Acute inpatient wards.
A potential aid for astronaut health
While care homes, prisons, police and mental health facilities are the focal points for the Oxehealth system, its potential has been explored in another arena: space. Although not a core business area for the company, monitoring the vital signs of those undertaking space travel, whether that be astronauts on scientific missions or those involved in space tourism programmes, is a possible longer-term application for Oxehealth's technology.
Lloyd-Jukes says: "If you think about it, the shuttle back from the International Space Station is like the longest corridor in history. It fits our market definition, which is anywhere with a corridor problem looking after the elderly or vulnerable. Astronauts are by definition vulnerable, and by definition they have the corridor problem."
Research into the device's potential use in space medicine is being conducted by Dr Michelle Freeman, a pulmonologist and critical care specialist, and Dr David Freeman, a neurologist, at the Mayo Clinic's Florida campus, USA. An optical sensor was on board the SARGE suborbital rocket when it made its maiden voyage from Spaceport America, New Mexico, in August 2018. The flight marked the inaugural mission of Exos Aerospace Systems & Technologies Inc. and was co-ordinated by the Center for Applied Space Technology.
NASA donated a canister to hold the device along with a watch that floated in zero gravity. As the mission was unmanned, the Oxehealth system was tasked with tracking the movement of the second hand of the watch. The study will provide initial data on how the system functions in space. Further phases of the study could include humans in simulated microgravity on a parabolic flight and, further down the line, potentially astronauts on commercial voyages or on the International Space Station.
"In principle, there's no reason why our technology wouldn't work in space," notes Lloyd-Jukes. "Because neither the software nor the optical sensor it harnesses have any moving parts, and the solution overall is small and unobtrusive, and sits in the background, it could be an ideal way to monitor, particularly sleeping, astronauts."
A mission to deliver more time for hands-on care
In the near-term, and back on this planet, Oxehealth hopes to further expand into its main market areas. "It's important in the next year that we grow those businesses and help everyone in those industries understand what we can do for them, and the dramatic new possibilities [our technology] opens up for them and patients," says Lloyd-Jukes. The company aims to achieve this within the regions in which it is currently operating - the UK and Sweden - as well as entering into a new geographical market over 2019.
"The mission we're on is to give carers and clinicians more time for hands-on care," stresses Lloyd-Jukes. "We're not going to be satisfied until everyone who needs a Digital Care Assistant paying attention when they are not there, has got one."
He adds: "An ageing population, hospitals creaking and not well-suited to chronic, long-term conditions, and a staff shortage almost everywhere, mean that clinicians and carers are crying out for reinforcements. We mustn't undermine their roles; we must support them to spend their time doing the skilled decision making and caring that only they can do."
Feature image © vectorfusionart – stock.adobe.com