Striving for Blue Zone Equality – the dysfunctional truth about longevity
Yvonne Sonsino, Partner, Multinational Client Group; Global Co-Leader of Next Stage, Mercer

How do we tackle an emerging dysfunctional truth about longevity? There is already a shocking problem of health inequality across the UK population, with as much as a twenty-year difference in the healthy life expectancy (HLE) of people who live in the east and west side of Glasgow. Hardly a fair comparison with the so- called 'Blue Zones', geographic regions where super ageing populations thrive and there are higher proportions of centenarians than any other regions in the world. Simple lifestyles with regular downtime, a mostly plant-based diet, physical outdoor activity, no smoking, social engagement – these are some of the common factors that span the Blue Zones such as in Italy, Japan and Greece. Scientists are also studying high-altitude Blue Zone areas such as Nepal, Tibet and China, where native flora can effectively counteract the ageing process.

There is an emerging and increasingly serious field of drug development counteracting the ageing process. Some prominent scientists proclaim we are just 10 or 20 years away from widely available inexpensive drugs that will extend HLE to 150. Many have been taking Metformin for years, and extol the human life extending qualities of this drug, more usually used in the treatment of Type 2 Diabetes.

But even if the science enables living to 150, the social sciences are not yet ready with the answers as to how this extra HLE will be funded. The drugs may be cheap but living costs will not simply disappear.

In my view, the Longevity Dividend needs to be measured by a unit that is achievable, sustainable and more equitable for all. This is where the scientists should investigate the social science implications of what it will really be like living to 150. People in highly developed countries with strong and stable pensions and savings systems already run out money somewhere between 8 and 20 years before they die*. If we really are looking at a 150-year life, then given current savings habits, people will run out of money some 80 years or more before they die. This emerging dysfunctional truth about longevity is clearly neither achievable nor sustainable.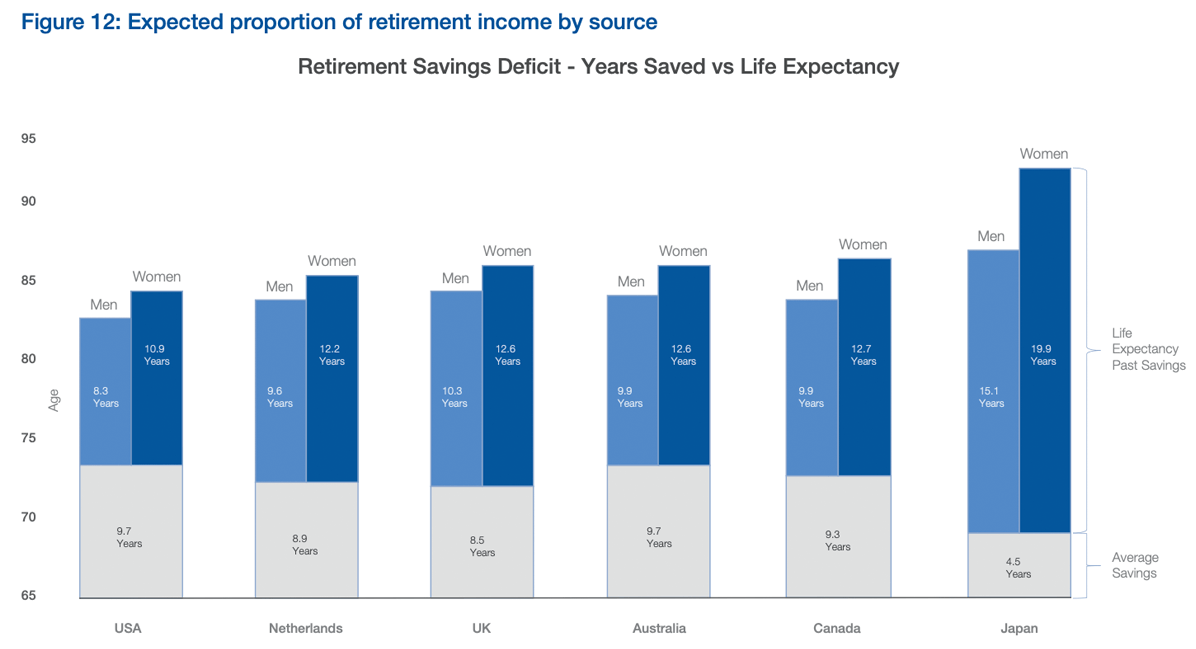 * 2019, World Economic Forum, Investing in and for our future, pg. 21, fig 12.

How we can maximise the 'Longevity Dividend'?

Let's explore the options, and maybe take a closer look at some of the Blue Zone success factors.

Working longer is the immediate reaction when you hear the facts about longevity, and if extra life expectancy is healthy, as the scientists espouse, then that should be a perfectly feasible option. But currently, the experience of working longer for many is that they encounter ageism, prejudice, pay and promotion stagnation, lack of training and find it an almost impossible task to get hired after age 50. In the tech environment, they can experience all of these things at an even earlier age, and some have taken drastic measures to disguise their age. In a recent survey 89% of employees in the tech sector agreed that ageism is rife, with a quarter of these saying it starts as young as age 36.

However, the real Longevity Dividend could be enjoyed right now by organisations if they looked more carefully at their number one asset – their people. Mercer's Next Stage research shows that age and experience add value to business performance. Companies who use data analytics and business impact modelling to examine their own organisational demographic data discover the real drivers of business performance. This is the type of dividend that pays back to companies and economies alike. And it pays back to individuals, as fulfilling work gives them a sense of purpose, a sense of belonging and there is much scientific evidence to support that these feelings lead to actual physical good health and wellbeing. Preventative health interventions that adopt the blue zone winning tactics on diet and recreation will also pay dividends. So, we need to take a balanced approach to understanding and crystallising the longevity dividend.

What are firms doing to capture 'Longevity Dividend'?

Some companies are using analytics and business impact modelling to examine their own organisational data to discover what drives business performance. In fact, our research found that age diverse teams outperform:
Experienced workers lower costs because they are less likely to leave and, interestingly, so are the people they supervise. Turnover and on- boarding can cost businesses between 25% and 300% of annual pay per person. A 5% reduction in t/o saved one of our clients $66m in cost per unit and $31m improvement in operating margin


Experienced workers increase productivity – one study with a US bank showed that specific branch performance had increased revenue of $40m per year for each year of extra service / age of its sales team


Yet 20% of job leavers in the UK aged 50-64 are being made redundant. That makes no sense – employers need to analyse their own data to isolate performance drivers and optimise them. Optimisation could be through constructing and maintaining age diverse teams, so redundancy for this potentially outperforming segment of the population could be counterproductive.
Organisations are also exploring the intersection of retirement plan design and flexible working. Across eight of the top developed countries, there is already more than $70 trillion pensions gap between what people have saved and what they will need for retirement and as stated, many will run out of money long before they die. Retirement affordability is already a serious issue; people will have to continue to work to earn.

But pension plan design can put handcuffs on employers and employees, by prohibiting phased retirement and congruent flexible working. There should be mandatory enabling mechanisms
to allow employees to transition from work to non-work over a longer period of time to suit changing physical and financial needs. The decision is binary in many countries – you either work or retire, there is no middle ground. In recent focus groups with the over 50s in the UK, we found that four out of five employees wanted to 'work differently' in future. Half wanted more flexibility, and less working hours. The other half were hungry for a new challenge. It's time to investigate flexible working, later-life career reinvention opportunities and retirement programmes in a holistic way to ensure they enable the new multistage life approach and capture a longevity dividend.

Not only do organisations need to enable phased retirement and flexible working, employers need to make the workplace a great place to be for older workers. Addressing ageist practices is key to this, and by undertaking pay, promotion, bonus award, performance grade and hiring equity checks, employers can get to see the full extent of potential ageist outcomes. According to our research, less than 3 in 10 companies do any of these checks; of those that do, more than two thirds find these checks to be an effective way to become more 'age friendly'. Even more shocking is that less than 1 in 10 companies have examined the age distribution of training spend – if they do, they will find is heavily skewed towards younger workers. It's simply unacceptable to discriminate on grounds of age – it's illegal and immoral.

Finally, companies are starting to realise the importance of taking a lifelong learning approach. People have an appetite for learning – in the US, as many as 57% of workers in some states have 'skills anxiety' and believe they need more training to stay relevant for jobs of the future. In focus groups in Europe this year, we found as many as 62% of the over 50s prioritised lifelong learning opportunities as part of their future development plans, and 55% had undertaken new skills training in the last three years.

What is changing for organisations?

Firms are facing real labour and skills shortages impacting their businesses. By 2022 in the UK, there will be 700k fewer school leavers and 3.7m more workers over 50. Fuelling economic growth in some geographies, the only growing labour pool to tap into is older and experienced workers. Organisations are also telling us that they have now 'done' gender, they are ready to tackle the last bastion of D and I – ageism. There's a movement brewing. It's not just Greta Thunberg that has found her voice. I'm interviewing an 84-year old blogger next month and I can tell you she has found hers too! She assures me that being 84 is absolutely fabulous. A final note of caution – age discrimination is the highest growing litigation in the US right now. In the UK, in order to be legally compliant with the law on age discrimination, there needs to be an organisational strategy designed for older workers, implemented throughout the company and proactively managed.

Science and social science have a chasm to bridge over the dysfunctional truth about longevity, and to identify new ways of living and working. Embracing generation after generation is what the longevity dividend is really about, whether you live in a blue zone or not.
---
This article is an extract from the Longevity Trends 2020 report.

The report captures Longevity Leaders' extensive research into this space, including the most important longevity trends of 2020 that businesses, policy makers, scientists and the general population need to be aware of.

You can download a free copy here